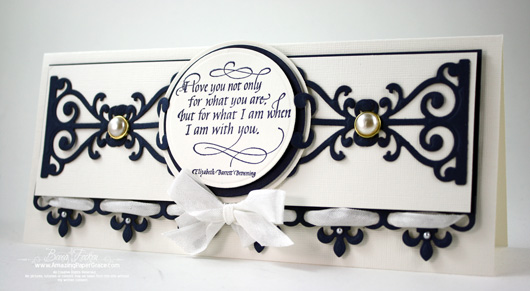 Hi there sweet friends, bless you on this fine Sunday!!   My young man turned 21 today, so the girls and I am taking him out to dinner.  These are the best days, spent with family – I am so blessed!  After we finished our other to do's today, my daughter and I scrounged through what I had for K-Cups for the Keurig she got me at Christmas and we sipped Chai Latte on this surprisingly chilly day in the south.  I hope all my friends weathered the storms of yesterday with no problem.  Anyways, on to my card – this is a new stamp I just got from Quietfire Design called I Love You Not Only For What You Are.  I think it would make a lovely anniversary card.  Even though I haven't spent a lot of time scrapbooking lately, I can see this making its way into a memory album that I have no idea when I'll make but it seems to be on my heart. 

I used Spellbinders Elegant Posts as the focal point – I love the ornateness of this die template!!  You're probably wondering why I've not used this yet.  I have just added it to my collection and get ready, because you will see it a lot this week.   I spent some time playing around with it and have a number of cards in progress.  You know, you've got to strike while it's hot – well that's me and designing — until I'm off on the next idea.  What a magical border with the Fleur de Lis Doily Accents – I promise you, I'm trying not to wear it out but it is classic, classic, classic.
So many people ask how I mail my cards, so I couldn't help but be a little bit devious and take a picture of the card in it's envelope.  That's really how I send them out!  Granted, this one doesn't have a big bow, but if it did, it still goes in the envelope. This is a standard #10 envelope – roughly 4.25″ tall and 9.50″ wide . . . my card is 4″ tall and 9.25″ wide. 

That's all for me today.  It's lovely that many of you have weighed in on this weeks poll already!!  I would never have guessed the outcome but I guess that's what makes it all so fun.  I'm working diligently in the background to fill in some of the places where it says "Coming Soon".  Little by little, I'll get there.  Changes are always happening, so be sure to peek around.  Thank you from the bottom of my heart for spending a moment with me!!