Hi there blog friends!!  I'm kicking off my blog candy that will run over the holidays.  I've already gone though all the blah, blah, blah about the blog candy and the rules right ——->HERE, if you are going to enter, please go read the rules.  In order to win, your comments have to be left on this post, the post you are reading right now.
Say, how observant are you?  Well sharpen those skills sweethearts – you will need them (wink).  This card is going to go through some changes :-)  Most of the changes will be subtle but it won't be so subtle that if you are watching, you would not know.  In other words I'm not going to make it too picky.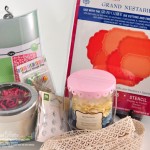 All of this is to say thanks for your support!!  The blog candy itself is pretty cool but the trinkets that get added for each guess and the option to add $5 onto a JustRite Gift Certificate for each correct guess may make it worth your while to peek in while you are doing other computer work ;-)  Here's part of the goodies up for grabs. . .

That's it's sweeties – no supplies list for my card or I'd be giving you a way to figure out what I added or took away.  At the end of the candy after the winner is selected, I'll be posting all the pictures so that you can see what changed.  Let the changes begin!!
(Note: there is still time to enter for the Our Daily Bread Designs Blog Candy ——–>HERE.
Also, JustRite Stampers released another set of stamps today, you can see them ———-HERE.