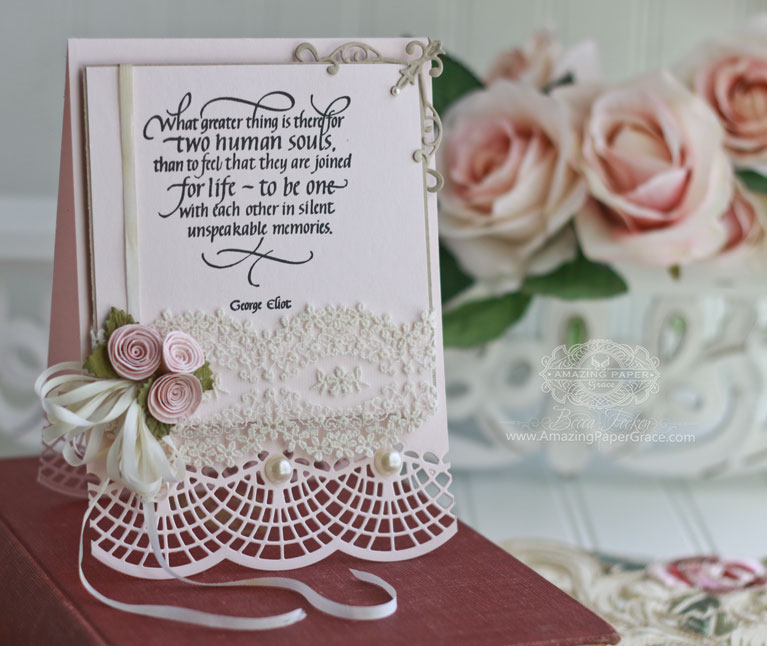 Happy July sweet friends!  Thanks for the sweet thoughts you shared about the bookmark samples.  I designed those dies quite some time ago and it was wonderful to pull them out and play with them again.    Yesterday it was an indulgence to forget my have to do's and just give in to the pleasure of playing around with paper.  That's why I'm popping in today – I got a chance to really tinker with a die for the first time – Spellbinders 74-790 Bella Clair Border which is part of the Venise Lace Collection.  The corner piece is from a die I have in my collection that has recently been discontinued it can be found here —-> Spellbinders S6-021 Imperial Square and here —-> Spellbinders S6-021 Imperial Square.  I have to say that once you start playing with something, the ideas tumble out as is the case with this border — I'm sure more of these ideas will get made up and shared here.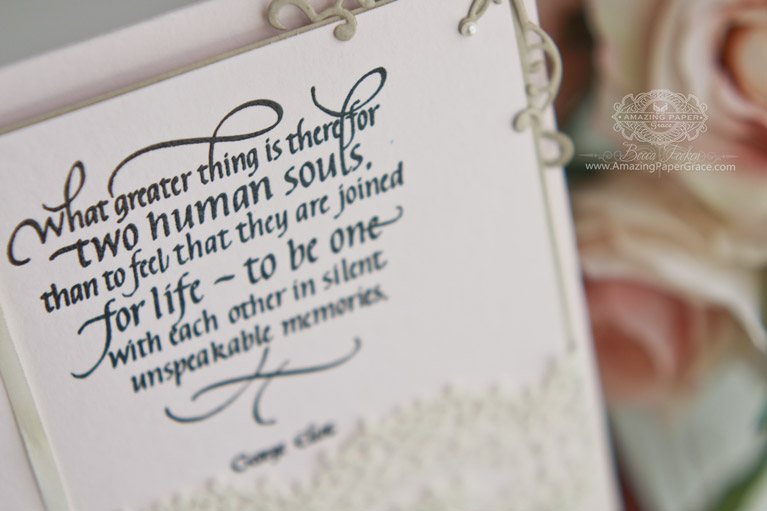 Then, I knew I had this stamp, I knew it, I knew it . . . but I couldn't find it.  Yep, I realized that it must have been put in that 'special' place I put things – just so they don't get lost . . .  and then they are lost.   I've torn my entire studio apart trying to find it – twice, but rested in the assurance that when I wasn't looking for it, it would surely pop up and make my day!  This sentiment absolutely tugs at my heart – it was penned by my friend Suzanne Cannon with Quietfire Design and is called What Greater Thing is There – it's gorgeous!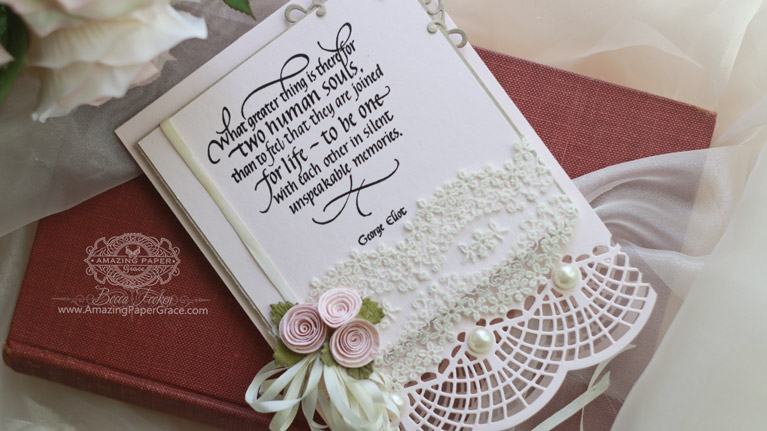 Okay, this is so, so easy:
Cut an 8.5″ x 11″ sheet of paper in half so that you have two sheets that are 5.5″ wide.
Use your border die across the bottom of both of those sheets.  (I recommend the Platinum die cutting machine for this because it is best to run your die through vertically)
Once cut, trim one piece to 7.5″ and score the other at 7.5″ and fold at the score line with the 1″ flap on top.  Adhere your other piece to this flap. (Visual learners can see a version of that technique —>here)
Add a 4-3/4 x 4-3/4″ pink panel matted with desert storm, for your sentiment.
Put an embellishment in the right corner before adhering.
Add lace, bow, flowers and pearls.


Stamps:  Quietfire Design and is called What Greater Thing is There and Heart Flourish 
Paper:  Neenah Classic Crest – Desert Storm – Cover – 80lb smooth, Bazzill – Pale Rose
Ink: Versafine Onyx Black Ink and Ranger Super Fine Detail Clear Embossing Powder
Accessories: Venise Lace Collection, Spellbinders 74-790 Bella Clair Border, Spellbinders S6-021 Imperial Square, Spellbinders S6-021 Imperial Square,  PL-001 Platinum™  Die Cutting And Embossing Machine with 8.5″ Platform, May Arts Silk Ribbon, The Paper Studio – Pearls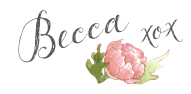 Many of you may be asking what happened to Day of Giving Friday.  Just a note to say I'm taking a break for a week or two until I get it caught up.  It will come back but I'm trying to perk things up around here, so lots of research going on in the background.  Happy Fourth of July weekend here in the USA and Happy Canada Day to our sweet northern neighbors – Happy 150th!!