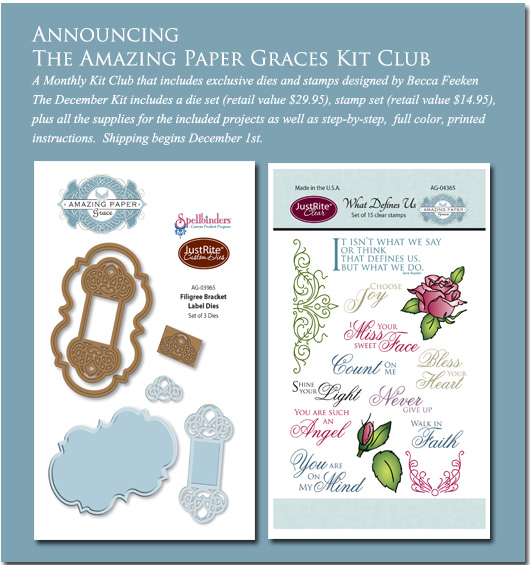 Hello there blog friends!  Whoosh!  That's the sound of the month rushing by and I feel like we just turned the corner – it's already mid-November and Thanksgiving is a stones throw away.  If you are like me, I wake up about a week or two before Christmas and the flurry of activity starts.  I wouldn't trade it for anything – I love this time of the year!  Speaking of mid-November – it's time to release a new kit!!  This is our 4th Kit and it begins shipping on December 1st.  No worries if you are not a member – if you want to try just one kit to see if you like it.  I will say these kits are a bit different from what I've seen elsewhere – it's not just a collection of things shipped to you for you to figure out how to use.  Each item in the kit belongs to a project that you are led through making – this kit has 5 made items.  When you are done, you still have the stamps, die templates and surplus supplies – you can craft to your hearts desire.  There are step – by – step pictured instructions  to lead you through each project and of course, you are always welcome to change it up and make it your own.  It works especially well for someone who doesn't have time to design and it's a fabulous opportunity to try products you might not have on hand.
I also wanted to let you know that I have to have some surgery at the end of November.  You may still see me post but for those of you who are members in the kit club – we will take a one month break to let me recuperate.  I'm not good (at all) with stuff like this so I'd ask you to keep me in your prayers.  I'm a pretty tough gal, but need to take care of my health, then get back to the crafting I love!  The next kit reveal will be on January 15, shipping on February 1st.   Dies and stamps are already designed  for this kit and I promise you, it will be worth waiting for.  In the mean time, here's a little more what in this month's kit. :-)
Don't forget, if you have any questions about the kit you can call Customer Service at 918-453-9111 or email them directly HERE.
Hugs to you, thanks for stopping by today!!  I hope to be back soon with a new project :-)