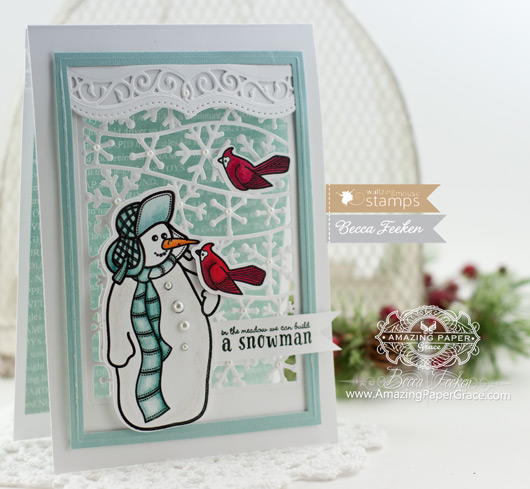 Hi there sweet blog friends!  (Just a quick note – my clear case blog candy ends at midnight CST so you still have a hand full of hours to get your comment in on this post – HERE). Welcome back to day Two of  Waltzingmouse Stamps September 2014 Release previews.  Claire, the owner of Waltzingmouse Stamps, said in her blog post yesterday that she was in the cute mode for her month of designing and wow was she right!  The snowman I'm showing today is absolutely adorable and a welcome switch from the classic elegant style that I'm so drawn to.  So I hope you'll enjoy this intermission of whimsy and know that next week I'll be back with some sweet elegant designs.  By the way, the previews all lead up to release day which is Sunday, September 28th – at which time all of the products we're showing will be available to see in full and purchase on the Waltzingmouse Stamps website.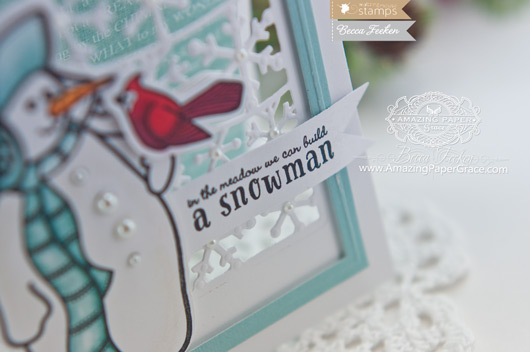 For my 5-3/8″ x 7-1/2″ card today, I'm using Frosty In the Meadow and once I saw him, I knew that this new Spellbinders Flurries die template would make an excellent backdrop.  I created a see through card by cutting the snowflake background directly into my card base and by lining the inside with design paper.  See how the snowflakes pop?  I couldn't resist putting pearls on each snowflake.  Just to give a little bit of dimension I die cut a frame using Spellbinders 5 x 7 Matting Basics A #6 and Spellbinders 5 x 7 Matting Basics B #6.  And again, just so that things weren't too plain I added a tiny border at the top using Spellbinders A2 Bracket Borders One.  I have to tell you I rarely pull out my Copic Markers because it takes me forever to color things up (I'm a remedial colorer) but this was some of the easiest coloring I've ever done.  I used two markers on the scarf (BG70 and BG72), an orange nose (YR12) and two colors on the birds (R46 and R56)!  I hand cut the small pennant my sentiment is stamped on.   Oh, by the way, notice how neatly the snowman and the little birdies are trimmed around?  Yes, that's because there are SVG files available for each of the stamps sets we're showing this week.  If you have a digital cutter you simply load, cut the shapes and stamp directly on them so there's no fussy cutting involved.  If you love fussy cutting, no worries because the images are very smooth and simple.  I'm so delighted that I got to break out the box today – it's a little breath of fresh (winter) air . . .
The other ladies have come up with some stunning ideas for these whimsical sets.  I hope you'll take a second to visit and see what they made today!
I read each and every comment and yesterday I was so blessed by your kind words.  This is how I know you all (your comments are so sweet and very often you joke and crack me up) and I want to say thank you.   Hope to see you again tomorrow, we'll be back tomorrow at 1pm CST for Preview Day 3 with more goodies :-)