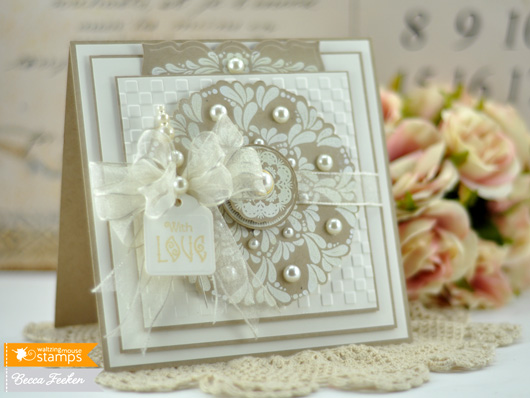 Sweet blog friends, I hope you are having a stellar day.  Welcome to Preview Day 3 of Waltzingmouse Stamps March Releases.  We started out with some sweet easter images on Day 1 and a Folk Art Label on Day 2.  Today we take it a step further with the Folk Art Medallion set.  There are lots of options with the medallion and the ability to color different sections indiviually as you will see as you jump around and visit the Design Team.  Me?  I decided to go with tone on tone today.  It definitely has the folksy pattern but I gave it a little bit of an elegant slant.   I created a stacked card (6″ x 6″).  After laying several tiers I added an accent with Spellbinders™ Labels Twenty Three and embossed one of the Folk Art Elements on the end.  On the next level up I introduced embossed paper made with Spellbinders™ Harlequin M-Bossabilities.  I stamped the medallion on kraft paper and embossed with white embossing powder.  You probably think it looks cream – well it is, I colored the embossing powder with ink to get the color I wanted.  Lastly I added a large bow and hung off of it a tiny little tag with a sentiment from the Folk Art Medallion set – the tag was cut with Spellbinders™ Back to Basics Tags.
I also crafted a large tag, partially cut with Labels Twenty Three.  I stamped a motif at the bottom and added two round pieces at the top for hole reinforcement.  On a pennant cut manually that I situated sideways, I added the wonderful thank you sentiment from the Folk Art Medallion set.
Hop around and see what the design team has in store for you today!!
Thanks for popping in to visit!!  I'll see you soon!!