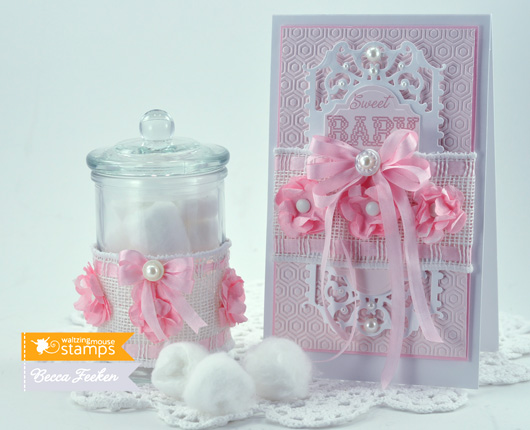 Hi there blog friends!!  Have we tempted you enough with the peeks?  Well, today, you get the see  all the parts and pieces of the new Waltzingmouse Stamp.  For the last several days we've been previewing the stamps and now, here are all the sets, you can see them all – HERE.   If you jumped in the middle of our list, the best way to make your way through the hop is to start at Claire's Blog she has the complete sequence if you get out of order or if one of the links don't work.  If you have just come here from Tosh's blog then you are in the right place!  In order complete the hop, leave a comment on as many of the Design Team Members Blogs as you can as a random name is selected from each blog and then a final winner picked from those names.  The  winner gets a free set of their choice of Waltzingmouse stamps. You have until April 21st at  5:59am CST to leave your comment and a winner will be selected and shown on Claire's Blog on April 23rd. Stay tuned, below I'll tell you your next stop along the hop!!
 Here are links to each of the new sets:
My Kind of Guy
Nordic Baby
Man of the Hour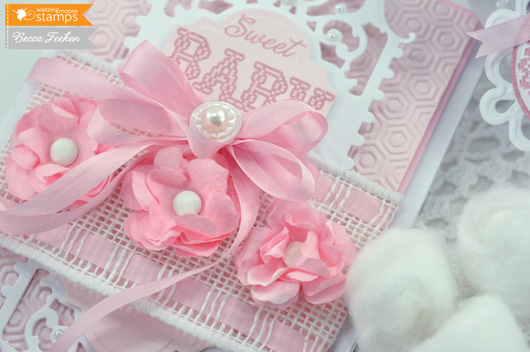 It probably won't be a surprise that I circled right back around to the baby set for my card today – an indulgence in pink!  In my stash I had this white burlap ribbon that reminded me of cross stitch so I removed some of the treads and ran a ribbon through it.  I picked Spellbinders™ Rose Creations and using the two smallest sized dies, created custom colored flowers with more coffee filters (one of my favorite ways to make flowers).  I daubed each layer with Victorian Velvet Distress Inker, dried them with my heat gun then fluffed them up.  I created a card base and added a panel embossed with Spellbinders™ So Trendy M-Bossabilities™.  On top of the embossed panel I added Spellbinders™ Enchanted Labels Twenty Eight and Spellbinders™ Labels Twenty Eight.
I also made a tag for the scent holder (Spellbinders™ Standard Circles LG and Spellbinders™ Medallion Seven) and used the same burlap ribbon and flowers for a container that holds cotton balls.  A little gift ensemble for baby :-)
SUPPLIES I USED
Stamps: Waltzingmouse Stamps – Nordic Baby
Paper: Neenah Classic Crest – Smooth – Natural White, Amuse – Blush Pink, EK Success – Pink Carnation
Ink: Victorian Velvet Distress Ink
Accessories: Spellbinders™ Rose Creations, Spellbinders™ So Trendy M-Bossabilities™, Spellbinders™ Enchanted Labels Twenty Eight, Spellbinders™ Labels Twenty Eight, Spellbinders™ Standard Circles LG, Burlap Ribbon, Buttons, Brads, May Arts Silk Ribbon, Recollections Pearls, Becca's Bow Maker
Yyour next stop is with Clare Buswell, I'm sure she has something gorgeous.
Thanks so much for stopping by, I'll see you soon!!!  Be sure to head to the Waltzingmouse Blog on April 18th for a special Blog Hop with a special group of guest designers.  They'll have Flower Power on their minds and I'm sure it will be something to behold :-)