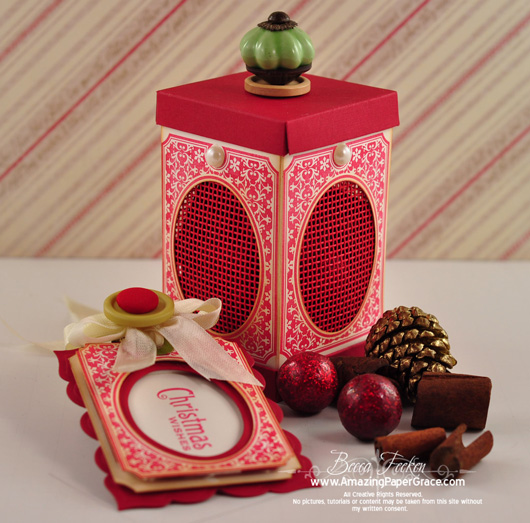 Hi there blog friends!  How about all the ideas you are getting from the Waltzingmouse Design Team for fabulously cute and quick gifties for the upcoming holiday season?  I'm astounded by what's running out of the creative faucet – ideas I haven't seen before.  Well, today is the last day of the Waltzingmouse Stamp of Approval Parade and another trinket.  Don't you just love the smell of the holidays in the air?  When I'm in the craft store and run past one of those cinnamon brooms — Mmmmmm!  Let me linger on the candle aisle — yummy!  The other day I ran past some scrumptious potpourri that somehow made it into my bag.  I decided to make a potpourri holder that would be small enough to give as a gift and open enough to let the sweet fragrance out.  This is a little bit on the small size but holds a lot of potpourri – it's 2.5″ wide by 2.5″ deep by 4-1/4″ tall (not counting the knob).



Did you peek inside to see how I made it.  Not very hard.  I stamped four of the tags, side by side with just a skosh of space in between them and allowed 1/2″ on the top and bottom of my stamping.  Then I went back and scored in between each of the four motifs to make the sides of the boxes.  Once scored I went back and cut the ovals with Spellbinders Classic Ovals LG.   On the back side I cut four pieces of red screen which I glued down with ScorTape along the top and the bottom.  (By the way, I was so intrigued with these colored screens that I picked up several colors from my quilt store – the simple option is to pick up plastic canvas, it will work just fine).  Just to make the inside pretty (can't you tell I'm a seamstress?) I glued down an strip of contrast paper at the top and bottom of the inside just to cover up all my ScorTape and the raw edges of the screen.
Glue then goes along the entire bottom and along one side, which is then joined to make the box.  Then I constructed a top and a bottom from my favorite box method.  With a 4-5/8″ square, I scored at 1/2″, 1″, 3-5/8″ and 4-1/8″  then turned 90 degrees and scored at the same increments again.   This makes a  strong doubled walled bottom and lid.   Here's what the top and bottom look like before after you score and before you adhere.


My box seemed so lonely that I made a tag to along with.  I simply used the same tag stamp and cut it out with Spellbinders Classic Ovals LG then cut the outside of the tag with Spellbinders Small Labels and backed the tag with Spellbinders Labels Twenty Three.
We hope that you have enjoyed, and have been inspired, the past few days from our Stamp of Approval Parade; highlighting Claire's lovely Christmas and holiday sets. Now it's time for you to get your craftiness on as we invite you to participate in a CASE (Copy and Share Everything) competition.  Here's your crafty call to action!
1.  Find a card or project from any of the projects posted over the past few days by the WMS Design Team
2.  CASE that project using Waltzingmouse Stamp images, and link it using the Inlinkz on Claire's blog at http://waltzingmouse.blogspot.com/.
3.  At the end of the competition, one project will be randomly selected to be highlighted with a Parade of its own on several of the Design Team blogs.
We hope you will enjoy this competition and that it will inspire you be creative. You have one week to complete and link your project as the competition will close at 8:00 AM Claire's time on August 10th, which is 3 AM Eastern, 2 AM Central and Midnight, Pacific time. The winner will be announced on Claire's blog on November 11th.
It's never too early for a little Christmas Inspiration! Be sure to peek in to see what the rest of the designers are up to!!
By the way, thanks so much for following me over to the Spellbinders Blog yesterday.  You only have until Midnight tonight (Friday) to leave a comment on my tutorial so that you are in the running for a free die template as described in the post over there.  Click over and try your luck – here's the link – Get the Knowledge! with Guest Designer Becca Feeken – Edgeabilities E8-003 Classic Triple Scallop.  So thankful for you wonderful readers, thanks so much for stopping by!