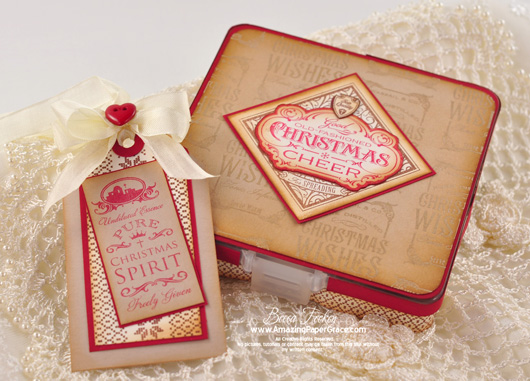 Hi there blog friends, welcome to Waltzingmouse Stamp of Approval Parade (SOAP) – Day 3.  Waltzingmouse Stamps releases stamps every other month to give you a chance to play with them before the next release.  On the off month, we show you how the stamps can be utilized for projects as well as cards.  This month we're doing a Christmas Themed parade that includes some of  the existing Waltzingmouse Stamps as well as the ones put out in November.  Today my project is a simple one, I'll call it frugal because I'm repurposing something from my craft room.  This is a Holiday Tic-Tac-Toe set that packs nicely for the car.  Give it to the kids and it will keep them occupied for a while with this endeavor that some of us old timers would call "vintage".  I guess I'm telling my age if I tell you that me and my siblings played for hours at Tic-Tac-Toe, Hang Man, Connect the Dots and that triangle paper football.   Yep, that's what kids did before Nintendo, lol!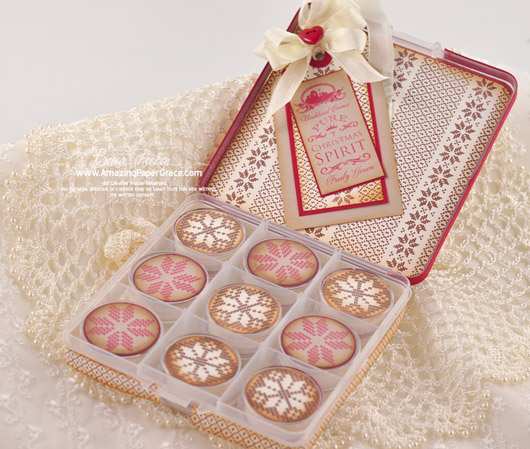 For this project I took a plastic container and adhered my seasonal background to the top.  For the playing pieces I cut circles with Spellbinders Classic Circles and dropped them into the containers.  Although I could have gone farther, I want to be able to change this for various seasons and holidays so I kept glue to a minimum.  Had I wanted permanence, I would have filled the playing pieces with sand or such and glued them closed.  Instead I filled the pieces with quilt batting that I cut into circles.   As it is, this makes for a very quick project – able to be done within an hour.  Since it came from my craft room, I don't have the packaging, but the organizer is under $5.00 full priced and of course $2.50 with a  50% off coupon at Michaels.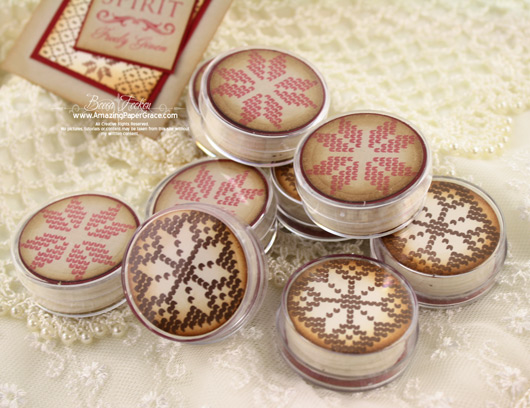 There were nine clear little containers in the organizer so I picked two motifs and put one of each side of each of the little containers.
SUPPLIES I USED
Stamps: 
Waltzingmouse Stamps –
Seasonal Remedies, Nordic Winter,

Paper:  The Paper Company, Bazzill – Ruby Slippers, Neenah Classic Crest Cream 80 lb Cover

Ink: Colorbox Chalk Ink – Dark Read, Chestnut Roan,  Ranger Distress Ink – Vintage Photo, Brushed Corduroy,

Accessories: Bead Storage Container – Michaels, Spellbinders Standard Circles SM, Clear Embossing Powder, ScorTape,

It's never too early for a little Christmas Inspiration!  Be sure to peek in to see what the rest of the designers are up to!!
Hugs all!  In the morning, I have another project Waltzingmouse project that will go live at 7:00am eastern time using Spellbinders Edgeabilities – hope you'll come back for my second post of the day.