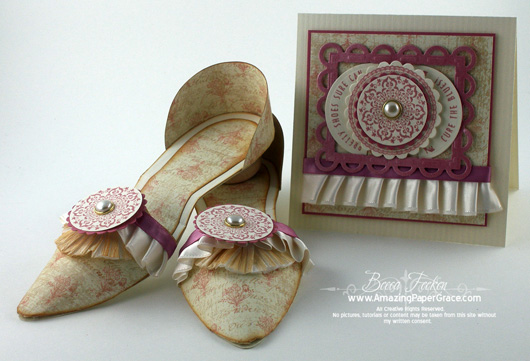 Oh, I have a fun project to share today.  I had it on my calendar, this month, to make these shoes that I ran across on a website.  In fact there was a challenge but alas, it looks like I was a couple of days late.  Well, I wanted to make them anyway and I think they are gonna be a little bit addicting, lol!!  Who doesn't like pretty shoes, right?!?  From the moment I saw JustRite Stampers new set called Kaleidoscope Borders and Centers, they reminded me of the kind of filigree medallions we would wear on our shoes and I wanted them for my shoes.   Of course those medallions always had a pearl in the center, so do mine :-).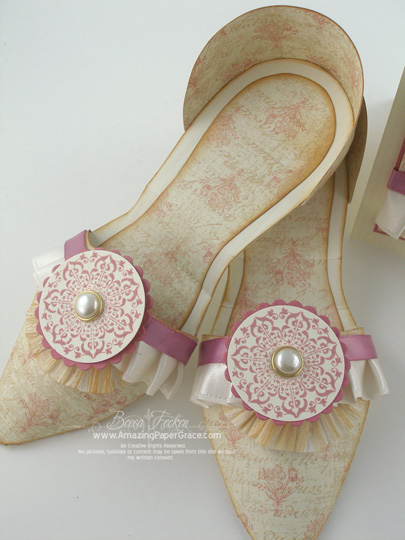 I found the pattern for the shoes on THIS website however I modified the pattern to fit my needs.  I wanted a longer, more feminine looking shoe so I narrowed the bottom, shortened the toe covering and added height to the heel.  I added crepe paper and pleated ribbon to the toe of the shoe and then added the medallion.  The shoe is distressed with Vintage Photo distress ink.  I wanted so bad to put a tassel on those shoes but I realized there will be many more pairs to come :-)
In addition I made a card to go along with the set.  It was sweet to pull out another JustRite Stampers set called Girl Time Borders and Centers Set and use the sentiment that says Pretty Shoes Sure Can Cure The Blues.  I stamped the sentiment and cut it in half and inserted in on both sides of my medallion.   I cut down the Spellbinders Scalloped Edge Frame to fit the area that I needed and bordered the bottom of the card with ruffled ribbon.
Boy was I in la-la land yesterday – I thought it was Friday!!   The Blog Candy is still open and I'll be picking a winner late tonight and will have in on my blog tomorrow – sheesh!!