Thank you so much for your sweet, kind words, friends.  You sure know how to make a gal feel special!!   Happy tears as I read your comments – it honestly was a very emotional day, all day.  The post took quite a bit of time to write because I wanted to find just the right words – it was important.   I was up at 6am writing although the samples were made earlier this month.  I mentioned to a friend that I was listening to the 80's music channel on TV when Wind Beneath Your Wings came on – if you know the words, then you can probably imagine the impact on this day.  Otherwise, call me giddy :-)  So here are more samples – these use the Vintage Alphabet Soup Background Stamp and show how you can mix and match the background with the Vintage Filigree Fancies Stamp set.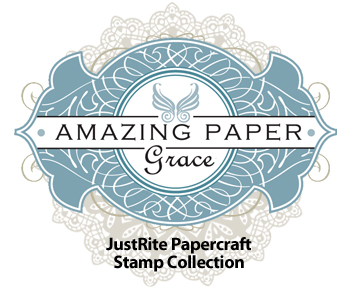 Starting now and ending at 11pm Central Time on July 10th, you can leave a comment to be able to win the Vintage Alphabet Soup Background. You're able to enter once by leaving a comment on this post and we're giving away one set for each 100 comments received. Another set will be featured tomorrow.  If you want in on the first batch, feel free to go ahead and pre-order – if you win we'll make an adjustment to your order.  For your comment, please let us know what kind of 3D projects you like to make to match your cards – boxes, gift bags, favors or something else? Tell us about it!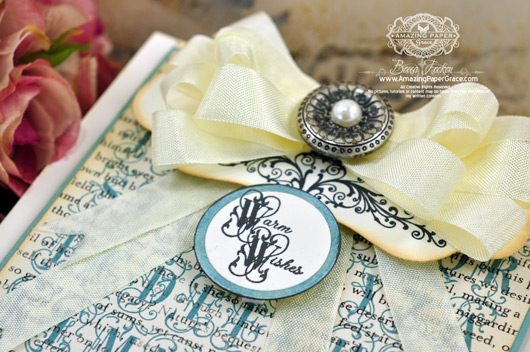 The card is made by overstamping the Vintage Alphabet Soup background on text printed design paper and mounting on a card base made by cutting the bottom of a folded card base with Spellbinders™ Labels Twenty Three.  Filigree from Vintage Filigree Fancies is stamped onto Spellbinders™ Jar Labels then the label cut in half horizontally.  Lastly the sentiment Warm Wishes is stamped and cut from Spellbinders™ Standard Circles LG.  A button and seam binding top off the design for a card where I was happy to let the background be the star!!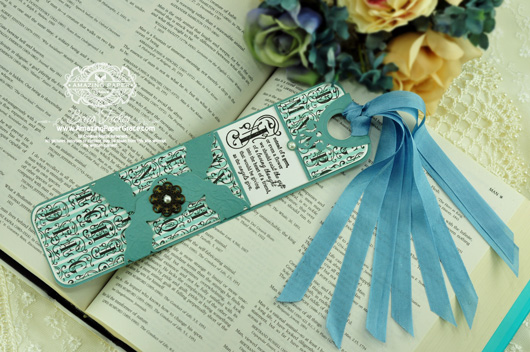 Then a matching bookmark was made from the same sets.  The background was stamped onto a piece of striped design paper and layered onto white and teal mats, cut just wide enough to accommodate the sentiment and rounded on the corners.   I snipped off just enough of the panel so that it could be placed above and below the sentiment.  Then I layered on Spellbinders™ Fancy Framed Tags One (new)  folded in half and cut an opening using the smallest circle from Spellbinders™ Standard Circles SM.  Lastly I cut two Spellbinders™S5-146 Botanical Swirls and wrapped them around the tag before a final glue into place.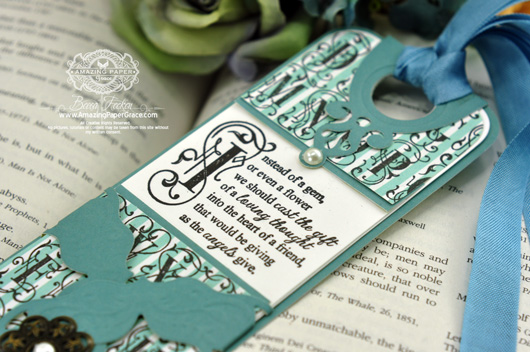 The background coordinates with the sentiments so well that you can actually forgo the design paper!!
More to show and more to win again tomorrow.  Come back, won't you?  Thanks for stopping by, see you soon!!