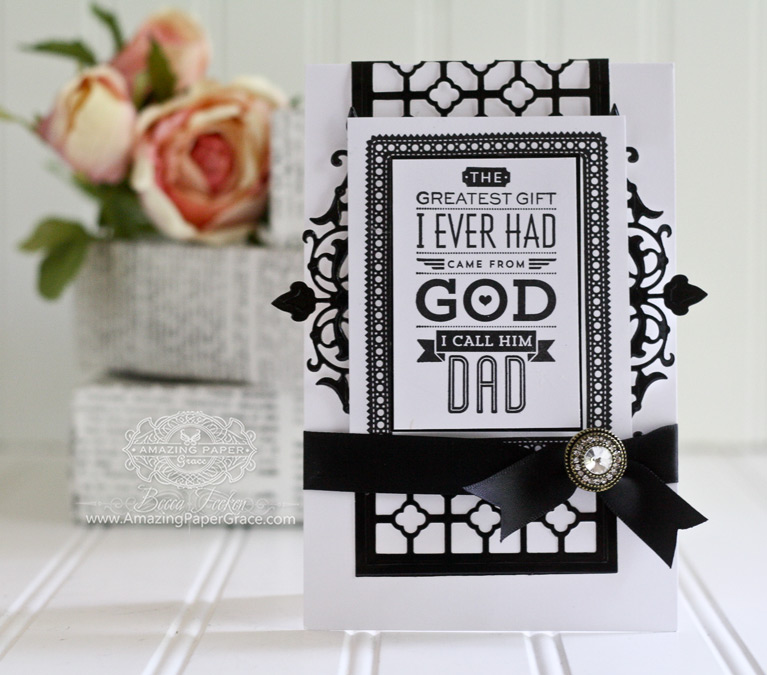 Good morning friends!  Today I have a video to share to show you how to work with the S4-609 Spellbinders Gents Shoe.   I created a card and box to go with the video and they are up for grabs today for Day of Giving Friday!  The card is made using S5-268 Spellbinders Quatrefoil Panel and an embellishment piece from S6-078 Regal Allure.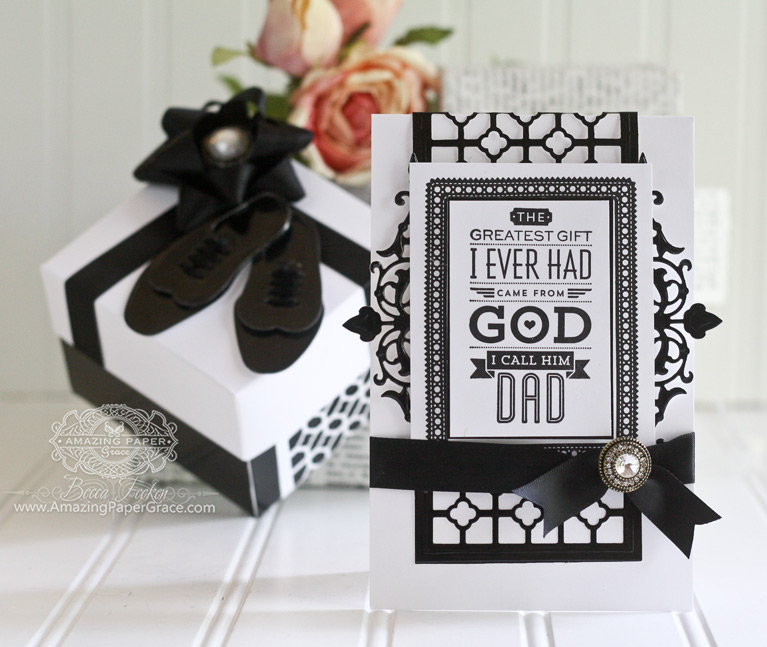 A Tiny Request
I have an optional request to ask – and please only do it if it feels right for you.  If you have purchased any Amazing Paper Grace dies, I hope you'll pay a quick visit to Amazon.com or Scrapbook.com to leave a review.  I read every review I can lay my hands on for my own dies because people have given me so much insight into what they like about the die or they have said if there is anything they didn't understand or wished had changed as well as rate how easy the die is to use.  The information I glean from a constructive review, helps me hone my designs and it may help other readers discern which dies to get :-)
A Unicorn
So today's card is a masculine card – or better known on this blog as a unicorn.  Yes, very rare and I know why.  I'm too in love with lace, ribbon and flowers and making a masculine card takes so much willpower not to go overboard in that area.   That said, I created a nearly flat card for Fathers day and a gift box to go along with.  Gent's shoes decorate the top of the box.  It was an easy project and the sentiment, although no longer available through Waltzingmouse Stamps, is one I've been dying to use.

About Day of Giving Friday
Welcome new readers!  Just to bring you up to speed, every Friday it's my pleasure to give away a card.   The card goes to a randomly picked reader (worldwide) who leaves a comment in our conversation. Want to know more about Day of Giving, here's a link to my FAQ's just check out #11.
As I sat and pondered what was going to go on my masculine card, which sentiment to select, the colors, how to photograph it – I mused about the men that we make cards for.  My sweet guy would keep my cards so I actually loved making cards for him.  For your comment today – Are you equally as inclined to make a card for a man as you are for a woman?  What the next masculine card you plan to make?

Rubber Stamps: Waltzingmouse – Discontinued
Craft Paper: Neenah Classic Crest – Solar White – 80lb Smooth,
Ink:  Versafine Onyx Black, Ranger Super Fine Detail Embossing Powder
Accessories: S4-609 Spellbinders Gents Shoe, S5-268 Spellbinders Quatrefoil Panel, S6-078 Regal Allure, Satin Ribbon, Button


Have a blessed weekend and don't forget to check and see if you were a giveaway winner.  You can click this link to check ——>Giveaway Winners Page.