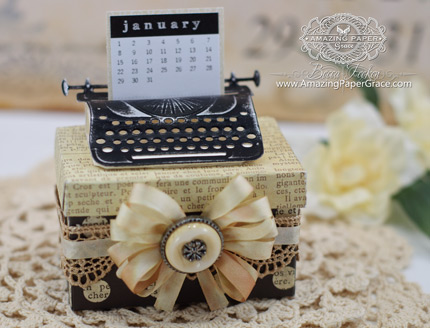 Okay, so by now you know I am absolutely obsessed with this little typewriter, right?  I have something coming up later on this week that I needed a little sumpin' sumpin' for so I whipped this up in less than an hour using one of the new Inspire Dies, Spellbinders Typewriter.   It's a little box – any size box will do really, and the typewriter is perched on a piece of paper shaped like a wedge.  My box is 3-1/4″ wide x 2″ deep x 2″ tall and the little calendar sheets are 3/4″ x 3/4″.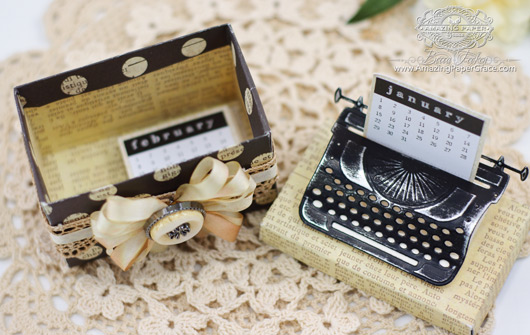 See, the little months fit inside :-)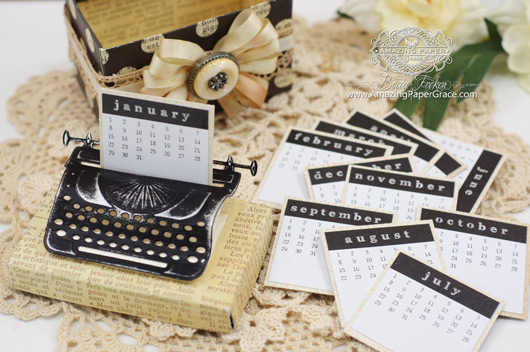 The calendar is a set of stickers from Yellow Bicycle.  I actually thought it was a real 2014 calendar until I put it together when I noticed that the months all look the same.  No worries, I'll be making quite few of these as favors and will print off a tiny calendar true to 2014 dates.  There are tons of free printables out on the internet for tiny calendars and I think I spy one I can use – just google if you're hunting one for the future). 

Thanks for letting me share – the idea woke me up in the middle of the night!  Thanks for stopping by, I'll see you soon!