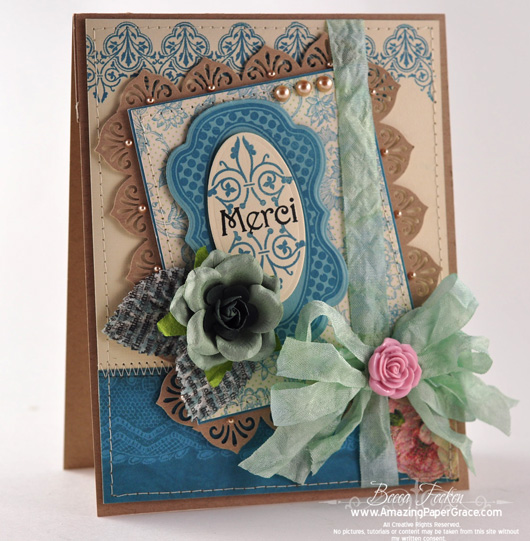 Good morning blog friends.  I have a tutorial for you today, and it's one you've been asking for – for a while.   I made a sample card to go along with it to show the end result for the technique.  Several years ago I figured out how to take a border punch and cut an even frame all around so that it comes out perfect every time. At the time, MS had just come out with the Punch Around The Page Product so I put my plans to do the tutorial away, thinking it obsolete.  Over the past couple of months, several have written to ask me to do the tutorial I had promised.  Then last week when I showed the Love Letter to the World framed hybrid project, several asked again.  Well, that's how I decide content here – you request it . . . it gets on the list.  Also when a project gets a lot of comment, I assume you like it and then I plan to do more similar projects :-)  All that to say, I'm listening!!

Just a short blurb about my sample card — I'm using a two sweet sets from Waltzingmouse Stamps – Holiday Labels No. 14 (which conveniently matches Spellbinders Labels Fourteen) and Victorian Frippery.  You know that I have to make a special effort to tilt my cards, lol.  Yesterday I saw so many tilted cards that I determined I had to do it!  You may also notice that my card has stitching on it — that's because I finally cleared a path to the sewing machine!

SUPPLIES I USED
Stamps: Waltzingmouse Stamps – Holiday Labels No. 14, Victorian Frippery
Paper: The Paper Studio, Coredinations, DCWV
Ink: Colorbox Chalk Ink – Prussian Blue, Versafine Onxy Black
Accessories: Spellbinders Labels Fourteen, EK Success Moroccan Border, Recollections Pearls, Recollections Flower, Recollections Resin Rose, Recollections Print Leaves, Seam Binding

Here is the tutorial on how to do the punching – I promise you it is not complicated, but you need to try it to get the gist of it.  It works best with single elements that repeat but try it on others:

Back tomorrow with something new!!  Hope to see you then!!