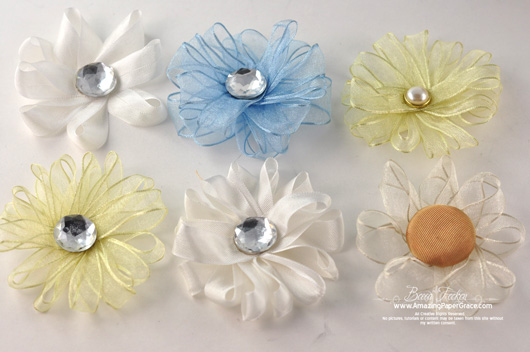 Hey Peg Bow Maker, meet Flower Loom :-)  Seriously, your husbands and boyfriends are going to tire of me I think, lol!!  Well so many of you asked how to make the flower I made on this post and I chuckled because I had to make a flower loom to make that flower.  Why make a flower loom?  Well I suppose you can buy them somewhere, I've not seen one and mine is very inexpensive.  The round box I made it from costs $1.00 plus some additional hardware.  So anyways, this is such a cute and easy way to make these ribbon flowers.   I made all the sweet flowers above with this little contraption below, my flower loom :-)  It now has a place on my shelf next to my Peg Bow Maker.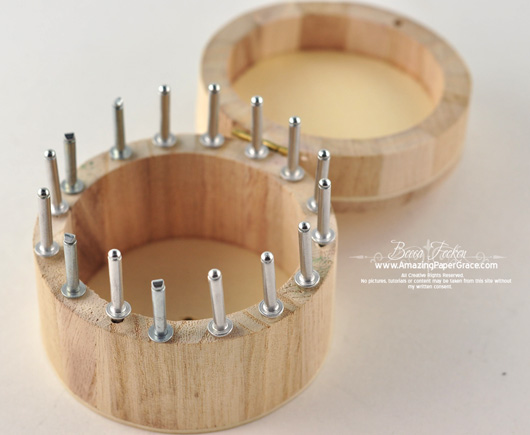 Here are some options when looking for a cylindrical item to make the loom.  The small box at Michaels is $1.00, I found yet another round box and a birdhouse whose roof I removed.  How about a wooden flower pot?
Here is a close up picture of the rivets I purchased (at Home Depot).  I only needed 16 of them but this multipack was all they had.



Here's the video tutorial to show you how to make the loom, describe what you need and how to make your first flower on the loom, enjoy!
By the way, should you make a loom and show on your blog or elsewhere, I'd appreciate a link back to this post for the work I put into this.   Thanks!!
SUPPLIES I USED
Stamps: None
Paper: None
Ink: None
Accessories: 1 Round Box, 1 5/64ths drill bit, 2″ Nail, 16 – 1/8″ Rivets with 1/2″ grip

Thanks so much for stopping by. I sincerely hope you will give this a try – it's an easy tutorial and gives you one more thing you can make to embellish your cards with out breaking the bank!!