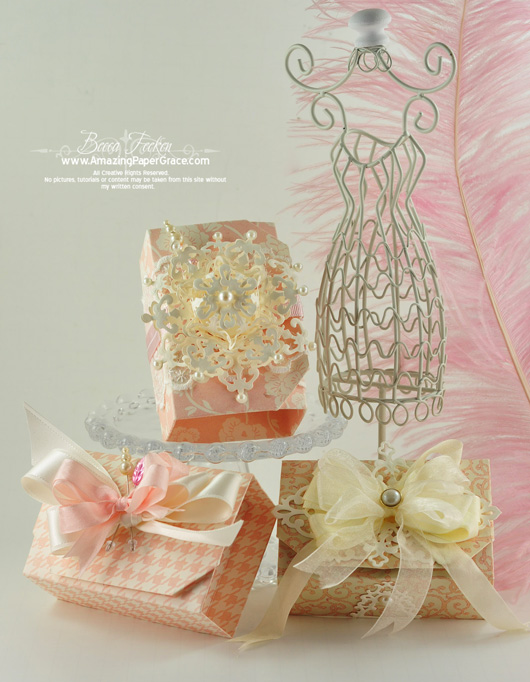 Hi there blog friends, you'll laugh!  I've had this box on the side of my desk so long that each time I'd sit down to make the tutorial, I'd have to reteach myself how to make it.  Finally, I've made some samples and a video to show you how to make it too!!  You'll love it.  I find myself reaching for this box when I want to do something quick.  Just imagine it filled with candy or some sweet enclosure cards.   For yours you will want double sided cardstock but don't assume that it needs to be ultra thick — a medium weight cardstock will do!   For my first sample I used Spellbinders Ironworks Motifs to create a flower and added some lace and ribbon around the box, as well as pearls.
For my second sample I layered Spellbinders™ Damask Motifs and Spellbinders™ Ironworks Motifs and finished on the side with embellishment using Spellbinders™ Ribbon Buckles.
For my third sample I used two Peg Maker Bows – one in satin and one in seam binding. 
Lastly, I wanted to give you an idea of what the box looks like when it is opened.
Here's the video to show you how:

I hope this inspires you!  The box is a blank canvas – make it uniquely you!!  See you soon!