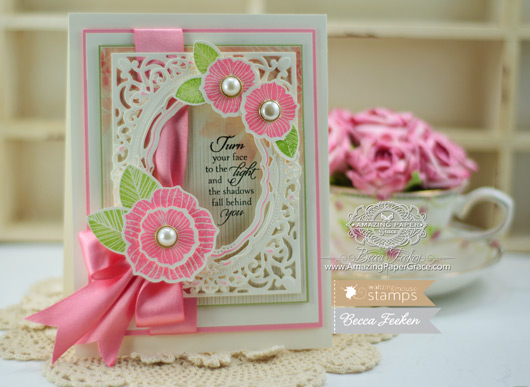 Good morning friends!  While it is snowing and the cold is closing in, how about a little breath of spring?  Yep, that's just what I was in the mood for – I rummaged through the goodies I had that I had not used and pulled out the Funky Flowers Set from Waltzingmouse Stamps.  Layering up a filigree frame gave me both a place to perch my flowers and as well as a place to nestle a sentiment from the Light of the World set.  Color inspired by some luscious satin ribbon I picked up on a trip, I matched the color with some of my ink pads and was in business.  I used the Funky Flowers cut files to digitally cut the shape of the flowers and then I stamped on them, then popped a pearl brad in the center.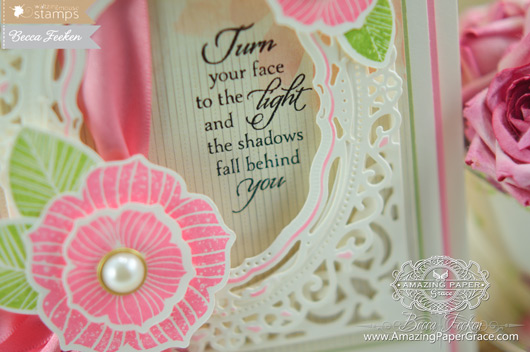 Here's your Step By Step Recap of die cuts and layers, from the bottom up:   Start out with a Card Base  7″ tall by 5-1/2″ wide (or see how to make that size with the Hinge Technique HERE), foam tape, pink matting layer cut to 6-1/4″ x 4-7/8″, cream layer  cut to 6-1/8″ x 4-3/4″, foam tape, green matting layer cut to 5-3/8″ x 4-1/4″, design paper layer cut to 5-1/4″ x 4-1/8″,  foam tape, die cut layer using Spellbinders Filigree Delight, foam tape, die cut layer using Spellbinders Floral Ovals, die cut layer using Spellbinders Opulent Ovals.     Tip –  cut everything first, then stack.  Position ribbon, bow and flowers on correct layer, after everything is situated, then glue!
Thanks so much for stopping by and for goodness sakes, stay warm!!