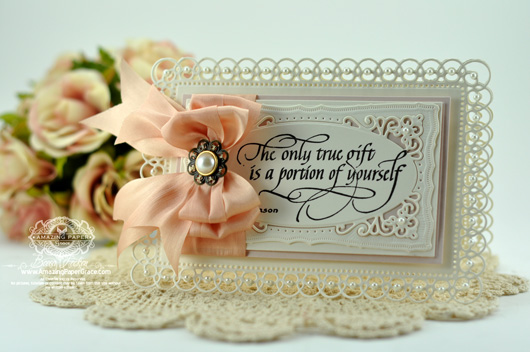 Hi there sweet blog friends, popping in to share a quick card.   I've been scarce for the last week, but I'm in the middle of some big home projects that have waited for over 10 months and can't wait any longer.   I'm making headway but it was sooooo good to sit down and play for a minute in between all the changes.  I'm using a die template that I haven't used before but the style is one that I'm loving lately because of the ease it brings and to me it lets the die speak for itself.  I created my card base using Spellbinders™ Detailed Scallops and layer the base using Spellbinders™ 5×7 Matting Basics B and Spellbinders™ 5×7 Matting Basics A.  Then finally on top of that I put Spellbinders™ Radiant Rectangles.  
The sweet sentiment is from Quietfire Design and is called The Only True Gift.  The card just begged for pearls, so I gave in with abandon :-)
Thanks for stopping by!!  In addition to my house stuff, I'm working on some things I promised to show that I hope to have ready soon!