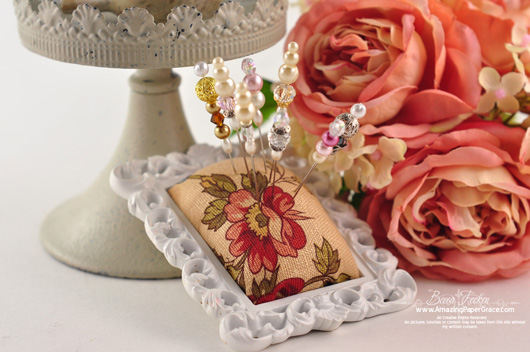 Hi there friends!!  I didn't think I would have a post for today, but I came across something so utterly cute that I had to take a 10 minute break from what I was working on to  make it.   The neat thing is, I'm giving it away to one of you for stopping by today.  Is this not the cutest thing?  I am just smiling all over myself.  I got the inspiration for this online from something I saw and seriously, it took me less than 10 minutes to make it.  I'm smitten.  There will be more of these in my future.  My head is just swimming with ideas.
At any rate, how neat is it when you have all the materials on hand to make something?  Let me tell you, there is nothing like "right now".  I end up not making things and letting the idea get cold if I have to go buy something.  I'm tickled, now I can unload some of those $1.00 frames I got from Michaels.   Since I'm giving it away and I get so many questions about the pearl picks I've been using, I decided to load up some pins with lots of  pearls and I didn't glue any of them so that they can be changed around to suit your needs.  So if you are interested in winning my break time amusement, leave a comment and I'll pick a winner late tonight.  By the way, later, when I'm finished with some other things I'm working on, I'll hop on YouTube and give a walk through on how to make it.  So check back if you're interested.
Thanks for stopping by today!