"Promise me you will not spend so much time treading water and trying to keep your head above the waves that you forget, truly forget, how much you have always loved to swim."
– Tyler Knott Gregson
Hi sweet friends.  Yes it is quiet here on the blog but I've been creating up a storm . . .   That poem is me . . . (substitute craft for the word swim).   I have to connect to what I'm making.  I want to savor every choice.  Lately I have been taking my time and enjoying the process – after all, that's part of what brings us to crafting, right?   These days the windows are open, the music is on and if it's not working out I simply don't force it.    I'm a blank slate crafter meaning I would rather everything be my serendipitous choice – I dream it up as I go along – that's the sweet spot.  I hope that inspires you to remember that you've always loved to craft.  That leads to my card for today!  This sentiment by Quietfire Design called You May Not Be Able to Leave Your Children is hands down in my top five.  I've only stamped it once but I think about it every time I'm making a Quietfire card.  Many times I make the card then make the sentiment fit.  Today, nah-ah!  The card was built around the sentiment because I was determined to use it.  How very, very sweet it is!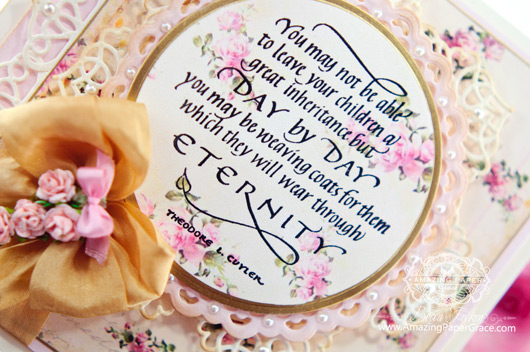 I went all vintage-y on you today.  As always, I try to dissect my dies to expand how they can be used.  This card uses the small motifs from Spellbinders A2 Tranquil Moments.  The smallest motif is cut and laid side by side to create the vertical border and the circle is bordered with the larger filigree motif.  Since these dies are double ended I was able to get two motifs from each cut!!
Here's how I made it – step by step:
Start out with a card base that measures 6-1/4″ square.  Add a panel from pink card stock cut to 5-7/8″ square – adhere to base with one layer of foam tape.  Add a panel from design paper cut to 5-1/8″ wide by 5-5/8″ tall, rim with Gold Krylon Pen.  Cut 3 of the smallest tag motifs from Tranquil Moments – Cut each motif in half and adhere five of the six pieces along the left edge then adhere directly to pink layer.  Cut 4 of the medium filigree motifs from Tranquil Moments – cut each motif in half and tape 7 of the 8 pieces evenly spaced around Spellbinders Standard Circles LG #7 adhere to base using a double layer of foam tape.  Add a die cut layer using Spellbinders Majestic Circles #5 and #6 at the same time – adhere with one layer of foam tape.  Add a die cut layer using Spellbinders Standard Circles SM #7 – stamp sentiment, rim with Gold Krylon Pen and adhere with one layer of foam tape.
Hey, I wanna say thanks to you for stopping by.  I feel so blessed to have the wonder readers I have and I also love how the comments are collaborative – you all help each other.  Don't forget, I've started putting a question parking lot so that if you have a question about this particular card – ask it and come back to this post to see your answer!
Question Parking Lot
Becky Green on Comment #6 asked where I got the little pink roses.  Those are tiny pink roses by Prima.  They measure about 3/8″ across.  I'm not sure if you can still get them through Prima or not (I get things out of my stash, you know…) but lots of people see mulberry flowers this size – I've even seen them on amazon.com :-)
Ruthie Armstrong on Comment #11 asked what printer I use to print digital papers.  Through no great research I have an Epson XP-300.  The only reason I have it is because it was the cheapest thing at Walmart at the time and cost about $49.00 and in my mind cartridges have not been too bad BUT, I only use it for scanning and printing the occasional digital paper and Cut and Print for my Silhouette Cameo.  Also, since this one is wireless and sits right in my craft room, I needed it to be fairly small – this one is 12″ x 15″.  I like that I can print and use Copic and Spectrum Noir markers without the ink smearing.  The only downside is that it's finicky feeding in thicker paper like my Neenah 80# – it will work but I have to hold my mouth just right :-)
Clair W on Comment #33 asked for tips on using a Krylon Gold Marker.  Hmmmm….me thinks I should do a video on that – stay tuned!!  In the meantime, buy one and just jump in.  Hold your pen so that the chisel tip is across the edge of your paper (perpendicular) and press the tip into the edge of the paper.  Since the tip is fiber, it will part slightly.  Run the pen down the edge of the paper and as you run it down ink will come off on both sides of your edge.  Practice!!  I'll be back with more tips because this is a tool I have used a lot over the years and fall in love with it all over again when I pick up a new replacements :-)