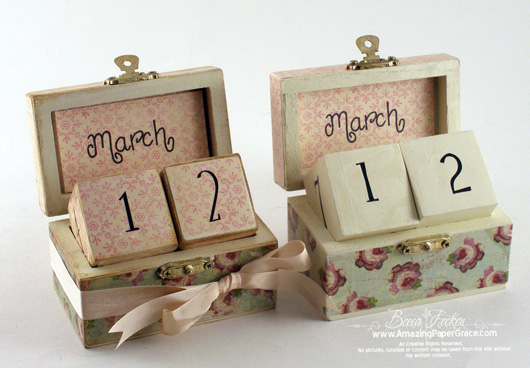 I have another project to share that I've been keeping until the appropriate season – a perpetual calendar. I hope you don't mind, it's a thrifty project (*wink*). This was made during my days in the Dirty Dozen and the thought behind it was to recycle something unused in my craft room and who doesn't have an . . . ahem . . .extra thing or two laying around in their craft room (rolls eyes).
So here's the quick rundown. In my stash I found these little $1.00 boxes that I had purchased at Michaels as well as wooden blocks, I'm not remembering the exact size on the blocks but they were between 3/4" and 1". I spray painted all the items with cream paint and let dry. Then I covered all the surfaces I wanted to apply design paper to with Modge Podge then put the design paper on the Modge Podge layer. I let that dry and sanded the edges of everything and followed up with a coat of Modge Podge on top to seal the paper in. For the months I cut 12 pieces of paper the size of the inside lid of the box. I stamped my months on each of those twelve pieces of paper then stacked them inside the lid for storage. Now for the numbers on blocks I used rub ons because I didn't have stamps the size I wanted – you can use either and if you are in a pinch, generate them on your computer.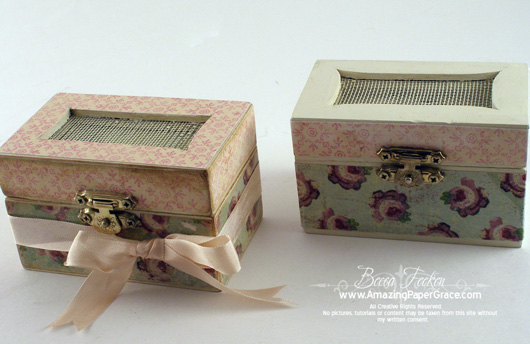 This is what the calendar looks like stored, with everything inside. When ready for use, pop the blocks up and sit them tilted in the top!! I have two different looks here. The one on the left has been scuffed and tarnished up with a little bit of Antique Linen Distress Ink and the one on the right is a crisp clean look.
Now I have to admit there's a trick to getting the numbers on the blocks so that you can use them to display each day of the month. Walk through your settings before you adhere them permanently. On one cube include the following numbers: 0, 1, 2, 3, 4, 5 and on the other cube include these: 0, 1, 2, 6, 7, 8. The 6 will be used for both 6 and 9.
Project Recipe:

Stamps: Months of the Year – CTMH
Paper: K & Co
Ink: Antique Linen Distress Ink, Black Brilliance
Accessories: $1 Wooden Box – Michaels, Wooden Blocks, Modge Podge, Ribbon, Rub on Numbers, Ivory Spray Paint
Thanks for letting me share. I have couple of these slotted to make since we're in to the new year, but the truth is since these are perpetual, they can be given year round.
(Note: My hubby reminded me that he had to do a bit of sanding for me when I did this project. The blocks were a tight fit, so he took a little bit of sand paper and sanded on one side of each of the blocks so that it would fit in the box). So if yours are to big, grab that man of yours and put him to work for a good project cause!)
Don't forget there are still new Spellbinders dies being revealed each day. If you haven't seen the samplings from the Spellbinders Surprise Party, be sure to see the list of designers HERE.
Stay warm friends!!