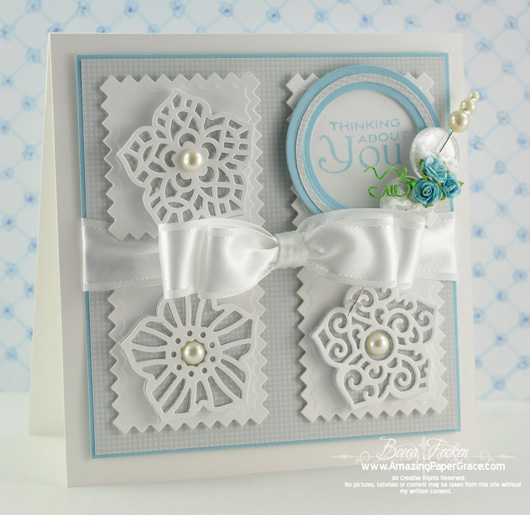 Hi there blog friends, I know it's an odd time, I had a card to share with you today and simply couldn't get back home to hit publish, lol!!  That'll teach me, I thought I'd only be gone an hour and one hour turned into most of the day.  At any rate, yesterday when I sat down, I wanted to make a complement to the pink card I recently made – something along the same clean lines that with the addition of an inside sentiment might be able to be used for a baby boy card.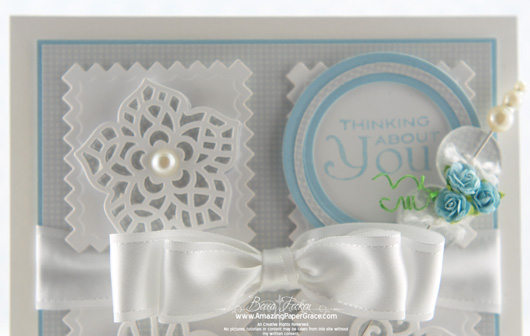 I picked a sentiment from Waltzingmouse Stamps from the Fancy Phrases set.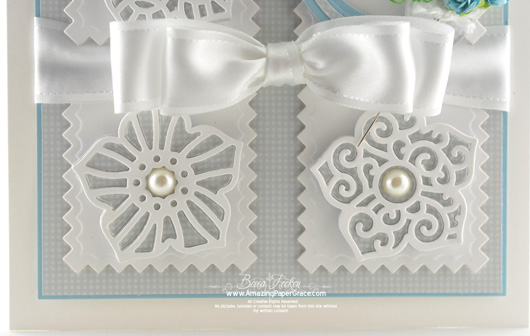 I've been dying to use Spellbinders™ Square Swatches — is that not just like scraps of fabic or the charms you buy at the quilt store?  On top of each scrap I mounted two layers of Spellbinders™ Layered Flowers using the tiny gingham for the inside layer of the flowers as well.   I used the fourth quadrant of my card for the sentiment and framed it with Spellbinders™ Standard Circles LG and Spellbinders™ Standard Circles SM.     Sigh, those flowers are so lacey – love them!!
SUPPLIES I USED
Stamps: Waltzingmouse Stamps – Fancy Phrases
Paper: Neenah Classic Crest Solar White, Bazzill, Marcella K (gingham)
Ink: Colorbox Chalk Ink – French Blue
Accessories: Spellbinders™ Square Swatches, Spellbinders™ Layered Flowers,  Spellbinders™ Standard Circles LG , Spellbinders™ Standard Circles SM, Recollections Pearls, Satin Ribbon, Pearl Pic, Prima mini roses, Epiphany Button Maker

Thanks for stopping in, I'm sure tomorrow will be a much calmer day, so I plan to be back with a post!