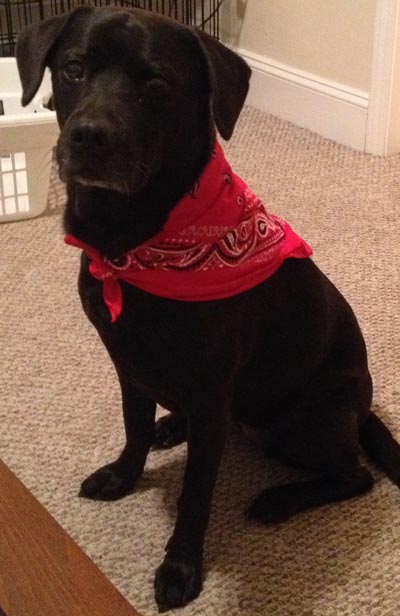 Hi there friends, this isn't my normal blog post, I do have a card to share at the end of my long post, but more than that, I have a story to share.   If you like, feel free to skip to the end of all the blah, blah, blah if it's too much to read or if you are not an animal lover – I did promise that I would share what's been happening in my life lately and I do tend to get long winded, lol.  By the way, this is Bailey, isn't she as cute as a button?
Meet Bailey.
A little over 8 years ago, my daughter moved out, got a roommate and Bailey.  The very last thing she needed while in college and working two jobs was a dog!  The room mate situation soured and daughter had to move back home where I already had a house full of people and two dogs.  Knowing I couldn't take on another dog with everything going on in our lives, we put an ad in the paper and found a good home for Bailey.  Those days were sad.  As it were, three months went by and the new owner called and said he didn't want her any more.  Something about how that all happened made me know that Bailey belonged with us – her place was in our family.  It's a good thing because she brought us more blessings than I ever expected…
Bailey Blessed Us.
Bailey, copilot and companion to John while he was sick and could only sit in a chair.
Bailey, rescuer when she found him laying on the floor twice and came to alert me.
Bailey, protector when someone was lurking outside our house; they heard  'that'  bark.
Bailey, soother and my companion when I was burdened with grief.
Bailey, special dog in our eyes – her nature was one of service and that was never lost on us.
Bailey is Missing.
So my daughter moved ten hours away and Bailey went with her.  While I was sad, I knew that Bailey would protect her and even though she was extremely skittish around people, when put to the test she would defend her territory.  Bailey went missing on Thanksgiving Day.
Looking for Bailey.
I've taken the long drive to the mountains twice for two weeks of putting up signs, and helping with the hunt while DD was at work.  Most days found me states away at home, texting back and forth with daughter, trying to figure a strategy on how to find Bailey. With the help of a "Pet Detective" we learned how dogs (especially shy ones) act when they are surviving on their own.  He also encouraged us that if we were willing to do the hard work, we had a very good chance of recovery (most people don't recover their animals because they simply give up).  Week five and still no recent sightings and then two lucky calls that she had been seen in a wooded area on the interstate two days in a row but would run from anyone who tried to approach her.   We put still life cameras in the woods around the mile marker where she had been seen, feet from a busy interstate.  We left food, her favorite squeaky and things with our scents on them, in the woods for her.  Over the three weeks that we tracked her she came know that food would come every day and this kept her from leaving the area.  We despaired when the temperatures dropped to below zero.  But, then the next day when the cameras were checked, she was still coming by for food. That's our girl – she survived!!  Over the last week we introduced a humane trap into the area and got her used it and baited it with hard to resist food.  Last Saturday, as night fell in the mountains, we captured our sweet girl and she is back home.
60 Days is a Long Time.
60 days of restless sleep, 60 days of sign-making and repairing signs, 60 days of my heart leaping every time the phone rang, 60 days of watching the clock every day when my daughter would text me she was going into the woods alone, 60 days of hoping that Bailey would not go near the road (again), 60 days where friends may have thought we were crazy, then the best day ever!!
Right Way, Right Time.
In retrospect, what we went through taught me a lot and in my heart, I always know there is a lesson to be learned in every little and big crisis entered.  I'm so glad we had a great outcome . . . I felt that we owed a superhuman effort to this dog that happened to be in our lives in just the right way and always at the right time.  I watched a beautiful young woman, bouyed by faith and armed with a determination that leaves me in awe; I was afraid she might give up. I learned that's just not how she rolls.  Blessed with this discovery, this sweet soul is a soldier I always want in my corner.  Long story, I know.  We've been giddy all this past week!  I have a package going to her on Monday so I didn't want to miss the opportunity to tuck this little card in with everything else.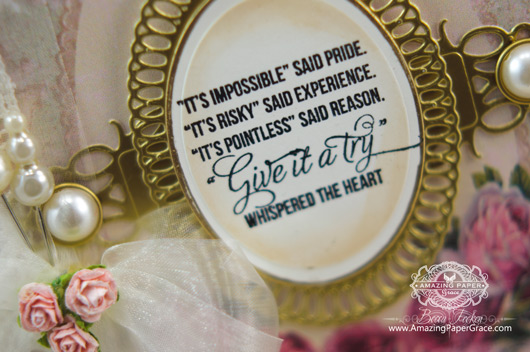 I reached for a new set from JustRite (my set :-) called Ribbon and Swags – the sentiment said exactly what I wanted to say after this whole event.  I also used  Spellbinders Fancy Framed Tags Three,  Spellbinders Classic Ovals SM and Spellbinders Exquisite Labels Eleven.  
See you tomorrow, I have a tutorial queued up and ready to go with a cardset/box ensemble!