Hello there blog friends!  Okay this is different, but it is what it is, lol.  I sat down to play with a vague idea in mind and here's what came out.  I always love pocket cards so I made this one with a negative cut out of the front.  It let me make a peek-a-boo window!  This is one of the flattest designs I ever remember making but I like having the inside card as well as the outside pocket to decorate.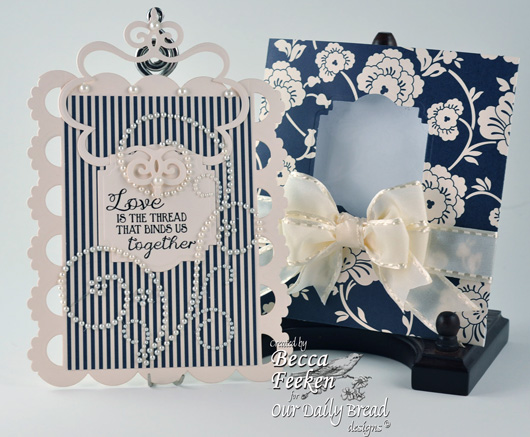 I was playing around with Spellbinders Classic Scallop Edgeabilities and Classic Triple Scallop Edgeabilities to see how easily they would work going around the corner and I'm pleased that they work quite well.  Since the edgeabilities all are consistently spaced 1″ between elements, it makes it pretty easy to line up to go around the corner.  I used the Classic Scallop on the top and bottom and the Classic Scallop paired with the Triple Scallop on the sides.    I used the frame from Spellbinders Twisted Metal Tags and Accents as a top piece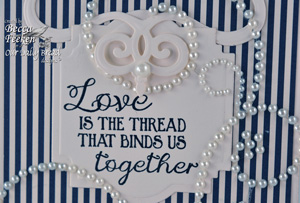 and it also works for a decoration you can see inside the window.  I cut the Peek-a-boo window with Spellbinders Labels Twenty Two and also stamped my sentiment on the same.  A bow on the outside finishes it off!!.  The sentiment is a new release this month from Our Daily Bread Designs, and is one from the Blessings Collection called Sewn with Love.

I hope you are staying dry!!  Thunderstorms have kept the computers off most of the day, but they're back up now and I'm chilled after the rain.  Me, my Raspberry Mocha Chocolate Coffee and a pair of toasty socks are in my immediate future :-)