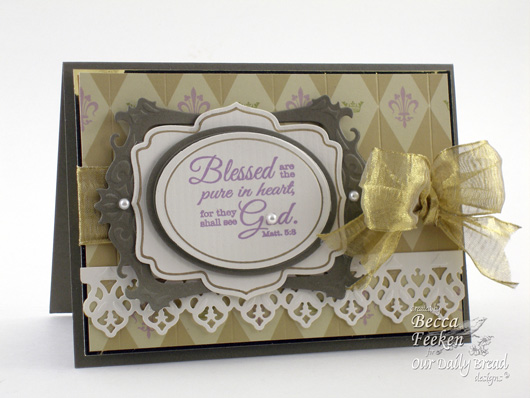 Guess whose camera made it back home!! Yup, mine :) My thanks to the kind people who saw to it's safe return. I didn't waste a moment photographing a card I had ready to show. Sporting new Our Daily Bread Stamps, this is one of the new August releases called Jesus. Layering a couple of Spellbinders die templates, I started with Spellbinders Classic Frame, Spellbinders Labels 5, Spellbinders Classic Ovals Large and Spellbinders Classic Ovals Small. The elegant border along the bottom is Spellbinders Grand 12" Classic Lace Border.
To begin, I laid down the Grand Lace border. Once cut, I layered the frame, followed by Labels 5 and topped it with the ovals. With the paper still in my Spellbinders die template (on Labels 5 and Ovals), I traced the inside of the template with a gold pen just to add some additional framing.
I hope to be back later today with some CHA pictures, better late than never, hunh?