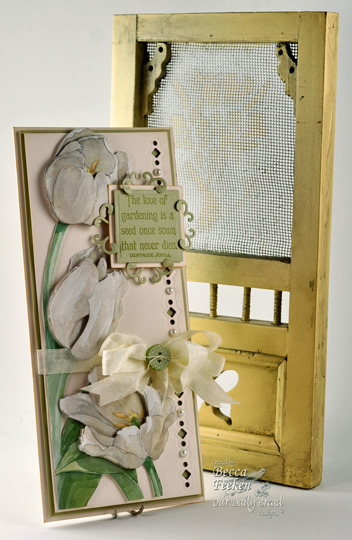 Where have I been, right? Oh, busy, busy, busy ;-). For me I know this is a sign that slowly but surely things are getting better. I had to take a break with that back hip pain – thankfully it is mostly gone, but I think it comes from sitting too long. So I managed to get up and do some of the things I've been ignoring for the past nine months. One of the things I'm tackling this weekend is my studio. It has become somewhat of a hazard with only a narrow path to get in and get out. Remember the boot? Well I've learned (the hard way) that the boot in conjunction with no where to walk equals trips and falls. So I'm doing a little bit of purging and hope to have a handle on things before the Hoarders show comes knocking on my door! Well enough of my babbling, in my purging I came across some paper that I purchased years and years ago; I gingerly relegated it to the donate pile. I think I thought about those couple of pieces of paper all night long because I had such hope for them. I just knew I would cut the beautiful tulips out and layer them. When I was cleaning this morning, I looked at the pile again and instantly decided, there was no time like the present.
Using an exacto knife I cut the tulips from this design paper (three sheets) and stacked the three layers with each piece of the tulip being successively smaller. After spritzing each layer with a fine mist of water, I used my huge burnishing tool to cup each layer. I used an Our Daily Breads Designs sentiment from one of this months releases called Seeds. I used Spellbinders™ Classic Ric Rac Edgeabilities to create the inlaid design along the edge of the card and used Spellbinders™ Holly Motifs along with Spellbinders™ Classic Squares LG and Classic Squares SM to frame the sentiment.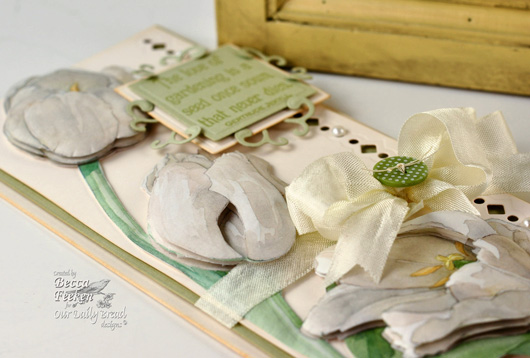 Sigh, I love a tall card, I don't know why I don't make them more often. This one will fit into a business sized ten envelope!
Well, that's it for me today, just thought I'd pop in. You all are the best and you sure make my heart sing!! As always, I so appreciate it that you pop in to see what I'm up to!!