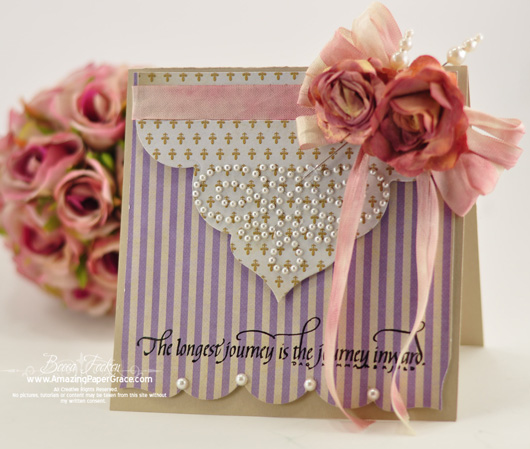 Dearest Blog Friends, if you haven't figured it out, I'm travelling this week!!  While having an absolutely marvelous time, I miss my own bed and my craft supplies, lol!  I did have a chance to throw together some simple cards before I left (hours before my flight last Friday)  and I'll post the last one today.   As much as I oft times get feedback my cards are too detailed, I do think you all like the more complex ones, no?   So every once in a while, when I'm experimenting, I would hate to throw away what I'm playing with and they end up on a card.  The experiment here were the roses – they are made from the dark colored coffee filters and painted with distress daubers.  I love how that goes down and is a good incentive to move me off the cream paper I seem to reach for automatically.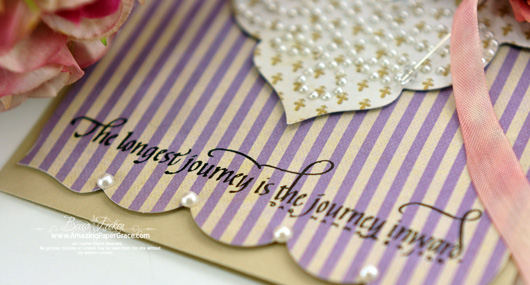 I picked this profound Quietfire sentiment  hand penned by my dear friend Suzanne with Quietfire Design, because it had such significance for the trip I was getting ready to leave on.  Art certainly mirrors life.  My sister invited me to join her on at trip to San Antonio and (in my heart) I didn't know if I could or not.  Much of John's care happened in San Antonio and I spent two different times in my life there, cheering him back to health as he recovered from bone marrow transplants.  Since much of the time he was not hospitalized, it's an area we explored thoroughly.  Tis not a sad trip, even though a couple of moments caught me by surprise, this was a very positive step for me.  One of our favorite places was Rudy's – a gas station that serves the most incredible barbeque with a picnic-like outside seating area and a cozy wood fire year round.  I went there as soon as I could and had a fabulous time.  Sitting in the sunshine with the fresh breeze was amazing, and I feel him all around me.  Thanks for indulging me to share that.   Ever the optimist, I know that getting through is about bravely stepping out.  I'm not dwelling in the past, but I do still embrace it (sometimes tearily and other times with great joy). Yes, this is a long journey and so much of it is inward . . .
So about my simple card . . . I started out by cutting Spellbinders™ Grand Squares, I then lopped off the end using Spellbinders™ Grand Labels Twenty Three before mounting to my card base.  For the decorative flap I used Spellbinders™Grand Labels Twenty Three again and cut off just the corner for my flap.  Then come the roses — they were a delicious experiment that I hope to share with you.  Using Spellbinders™ Spiral Blossoms One I cut and twirled several and glued down to a wide five wraps bow made using the Peg Bow Maker.  I stamped the sentiment across the bottom and embossed with clear embossing powder and embellished the flap and bottom scallops with pearls.

SUPPLIES I USED
Stamps:  Quietfire Design – The Longest Journey
Paper:  Die Cuts With A View – Chateau Lavender
Ink: Versafine Black Onyx, Tattered Rose Distress Ink, Victorian Velvet Distress Ink
Accessories: Spellbinders™ Grand Labels Twenty Three, Spellbinders™ Grand Squares,  Spellbinders™ Spiral Blossoms One, Peg Bow Maker,  Zva Creative Pearls (used on flap), Recollections Pearls (used on scallop), Hug Snug Seam Binding, natural coffee filters, Pearl Pics
Additional Ideas:  Quietfire Gallery,  Spellbinders Blog

Several people have left comments that they are having trouble finding Recollections® Pearls or Bead-Landing™ elements.  Those are both Michaels brand items and both of those names are registered or trademarked, so if you google them or go the Michaels website or store, you should be able to find them :-). I can't imagine they wouldn't have these items in their stores, so I'm sure a clerk would be thrilled to help you – I know the gals in my Michaels store are fab-u-lous!!   Also the brand of seam binding I use is Hug Snug and can be purchased from Zipperstop.com (please tell them I sent you :-), Amazon.com, or Ebay.  
In the meantime, I'll be home soon but didn't want to miss the opportunity to tell you all how much you mean to me.  I don't know what life would be like if I didn't have you to talk to so thanks for letting me share.  I might live a quiet little life but it's not so quiet with the internet that pulls you all into my sweet little craft room — my blog friends are the bestest!!