Do you know about 31 Days? Don't forget it's my Blogaversary – register HERE.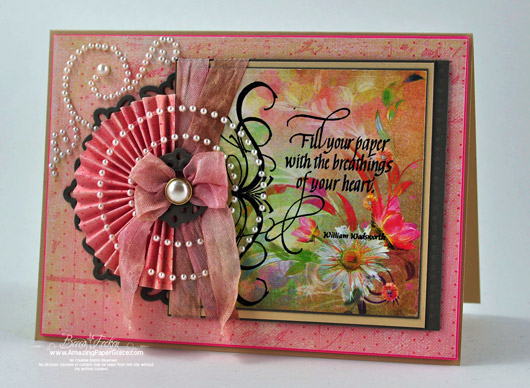 Hi there blog friends!  Popping in quick to share a card with you.  This is one of my very favorite Quietfire Design quotes called Fill Your Paper.  I swoon over this Prima paper and I've actually done a card using the 12 x 12 version of the paper, but I have the small pad too and the patterns and flowers are just so sweet and petite.  My focal panel uses paper from the smaller 6 x 6 pad; I think this paper is absolutely dreamy.  On the left of the quote I used a very elegant Quietfire Design Flourishes.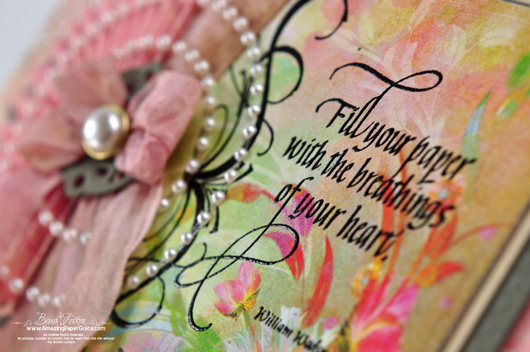 You caught me pleating paper again, lol!!  This time I plunked down a half circle and matted it using Spellbinders Parisian Motifs for a rounded border.  At the center of the pleating I used an element from Fleur de Lis Accents to pull my ribbon through before I tied my bow.  On the right edge of the card I used the bottom dotted edge of the Fleur de Lis Accents border – it makes such a nice emboss dotted line to border off the right side.  Zva Creative Pearls and Glimmer Mist dyed seam binding finish the job for me.
Sweet . . . the card I had in mind was so close to what's running for Mojo Monday 178 that I aimed it in that direction.  I have not played along in so long, but I'm playing today!!
HOW IT'S MADE
1. Make Card Base – mine is 5½"x7½"
2. Layer a mat 7¼"x5¼". Adhere with foam tape.
3. Layer a mat and design paper 4½" x 4½". Stamp sentiment and Flourish.  Tie Ribbon.
4. Cut/emboss Parisian Motifs and butt it up next to 4½ " panel.
5. Accordian pleat 12″ of paper at 1/8″ internvals and using aggressive glue, adhere on top of motif.
6. Cut/emboss Fleur de Lis Accent pull bow through.
7. Tuck Fleur de Lis Accents border under right side of 4½" panel.  Adhere panel with foam tape
8. Attach center pearl and Zva Pearls
Be good to yourself today!  See you soon!!