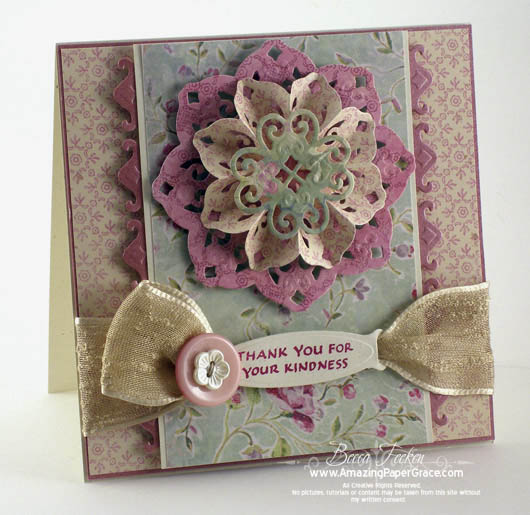 Greetings friends! I have a quick card to share with you today. It's turning out to be my favorite format and you've seen similar cards. I guess I'm just tickled to have found a formula to make all occasion cards without being on the hook for hours. I made several of these at one sitting and I'm rolling them out one by one. This one features the Spellbinders Renaissance Hearts Pendant; it lends itself very easily to folding which gives the round motif some dimension. Here I've used two Pendants and one Center. I've also used the Renaissance Hearts Borderabilities however I've turned the border around and hidden the most recognizable part – it makes for nice contrast.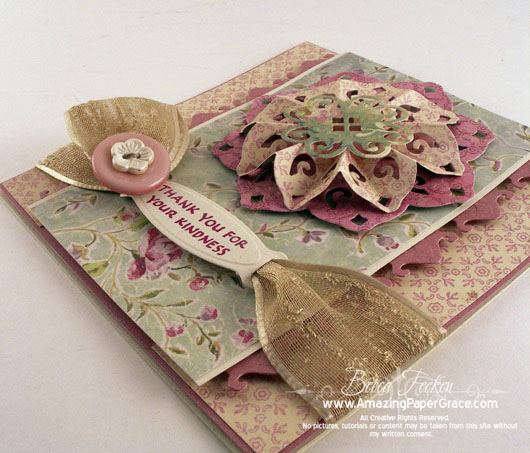 As is easiest in this card format, the sentiment fits nicely on Spellbinders Ribbon Tags Trio. I used one of my very favorite papers, K & Co. Madeline. In my Michaels, they have clearanced out everything on the K & Co. aisle. I sure hope this means there is more K & Co. goodness on the horizon.
Tip: To keep the folded Pendant in place and to keep its dimension, simply use glue dots on the eight points to cinch the flower in.

Card Recipe:

Stamps: Wordsworth
Paper: K & Co – Madeline, Bazzill
Ink: SU Bravo Burgundy
Accessories: Spellbinders Renaissance Pendant, Spellbinders Renaissance Hearts Borderabilities, Spellbinders Tags, Ribbon, Button
Speaking of more goodness on the horizon, have you checked out the Spellbinders Blog? There is another Blog Frenzy in the works that begins on Thursday, July 9th on Debbie Olsons blog. This Frenzy covers CHA releases and you will be amazed at the new stuff in store. Speaking of that, if I seem quiet in the background, just know that I'm working on more papercrafting goodness to share. Thanks for stopping by, I so appreciate it!