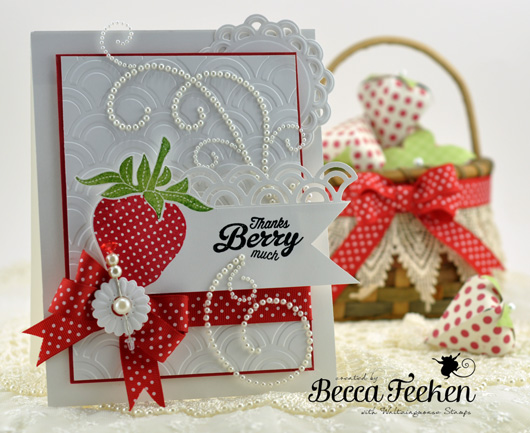 Hi there blog friends, this is a set that I've had on my desk for several weeks, that I've been dying to play with.  In between all the moving and saying goodbye, I stole out to the studio and finished up the stawberries in the basket.  I'd call this project a welcome break, seriously, this.was.fun!  The sweet strawberry set was an additional release by Waltzingmouse Stamps in July, it's called Big Berries – Strawberry.  In addition, very soon the kit with the strawberries is coming to Waltzingmouse also.  You won't have to use a wicker basket though, because there's a sweet basket pattern to go along with it.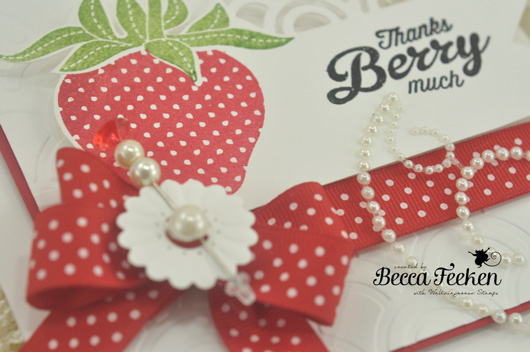 I made the card by stamping the strawberry and sentiment on a strip of paper and then I hand trimmed the left edge and cut a pennant on the right edge.  For the background I used one of the new Spellbinders Asian M-Bossabilities™.  I guess I just noticed that the border from Spellbinders™ Asian Accents matched the arcs on the embossed background, so I added the border above my stamping.  From the same set, I pulled a doily-like element for some interest in the top right corner.   
It's not often that I reach for grosgrain ribbon, but the punch of the red ribbon and white polka dots matched the strawberry so nicely.  I finished up with a pearl flourish and a flower from Spellbinders™ Ribbon Buckles to top off the bow.  
The small strawberries are sooo easy to make.  I cut them out with my Silhouette Cameo.  Once cut, it was easy to fold them and secure them.  I topped each one off with a small corsage pin stuck down through the middle.  Gotta have a pearl somewhere :-)
ETA:  As I went to post this, I noticed that the strawberries and the sweet basket are uploaded and they are free.  Have a look, won't you? Claire explains everything you'll need – they can be cut with a machine or by hand!!  The link is below – http://waltzingmouse.blogspot.com/2012/07/freebie-strawberry-suite-templates-and.html
SUPPLIES I USED
Stamps: Waltzingmouse Stamps – Big Berries – Strawberry
Paper: The Girls Paperie, Lasting Impressions, Neenah Classic Crest Solar White, The Paper Company
Ink: Colorbox Cranberry Pigment Ink, VersaColor Green Bamboo
Accessories: Spellbinders Asian M-Bossabilities™, Spellbinders™ Asian Accents,  Spellbinders™ Ribbon Buckles , grosgrain ribbon, Zva Creative Pearls, Corsage pins, lace, basket

Thanks for stopping by, see you soon!!