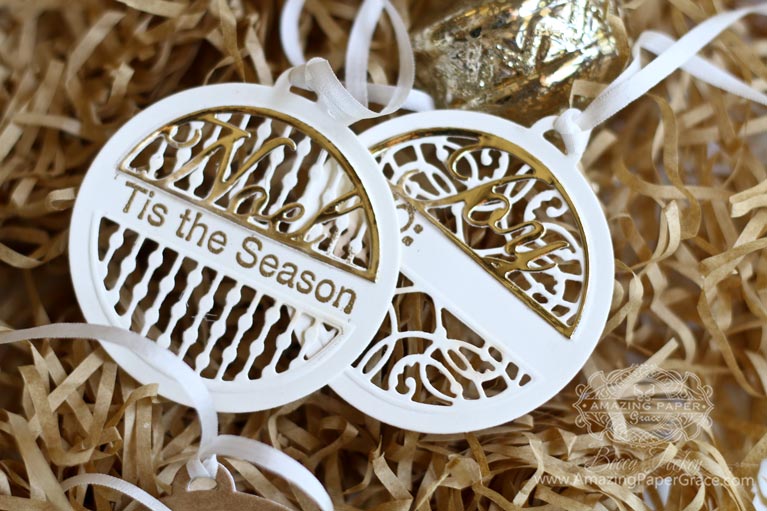 Hi sweet friends!  Thank you so much for joining us for the introduction of the A Charming Christmas Collection.  Today I'm peeking in to share the blog hop winners.  I also want to share the tag play I had today :-)  I confessed earlier this week that package wrapping and embellishing throws me for a loop during the gift-giving season and a kind reader told me to get started now.  Make a tray, cut out a few every week and then be done weeks ahead of time! Well, I took her up on it.  I'm using the Charming Round Tag and Charming Tag Sentiments.  It was sweet work to mix and match the pieces and get my pile of different tags started :-)  Tag play was fun!
Now to the winners!  A name was randomly picked from each of the 6 blogs that participated and if you left a comment, it might just be yours!  Please remember, you have two weeks to claim your prize.  Select 1 die from these collections: the Vintage Elegance Collection, the Graceful Borders Collection, the Venise Lace Collection, the Chantilly Lace Collection, or the 3d Vignettes Collection or the Romancing the Swirl Collection.  Sorry, no substitutions.  (This excludes dies from A Charming Christmas simply because it takes me a while to get them.)  They will be available during the next prize drawing.
Blog Hop Winners:
If you have won, please go to my contact tab at the top of the blog and leave your information in the form.  Please tell me you were one of the winners – leave the choice of die from the collections listed above and your mailing address!!  As I mentioned before, I won't be sending out responses but rest assured that we'll get the message and have your die on the way right away!!
P.S.  First, thanks so much for your kind words about my collection – I truly love designing dies.  I dream of these things!  It's an amazing feeling when they are ready to show!
I'm so excited to be getting started with my Christmas Inspiration.  I love fall too, so I can't wait to dig in!!