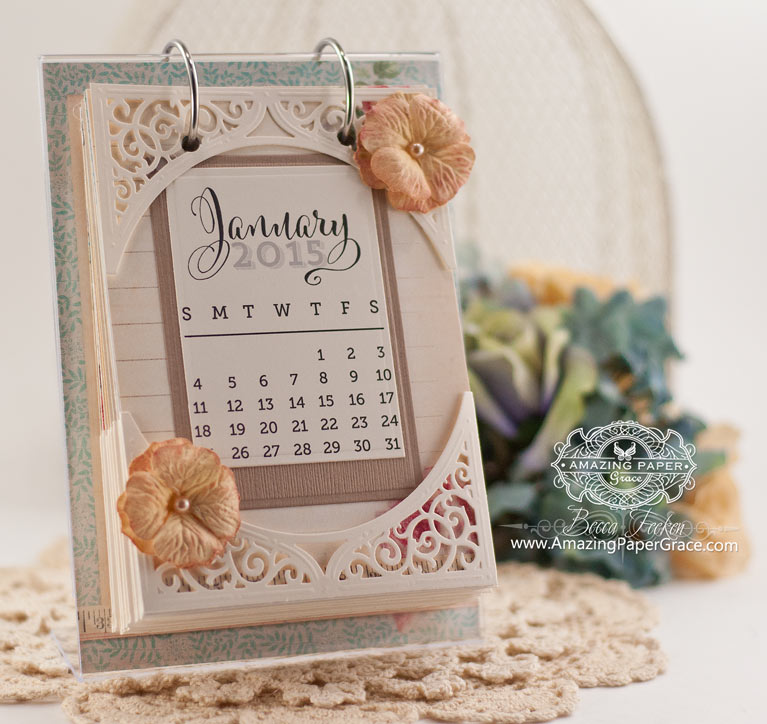 Hi there friends, I'm popping in today to share a calendar I made coming into 2015, that I haven't shared yet.  Lol, many of you saw it in the Spellbinders video that I did and asked if I'd be sharing it.  Yep, here it is – it was an easy and fab project to make.  Just cut, print, glue, punch holes, and you're done.  I used Spellbinders Swirl Bliss Pocket and Spellbinders 5 x 7 Matting Basics A to precisely cut each calendar month and matting.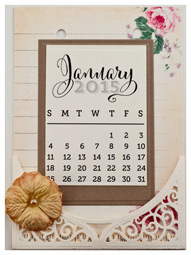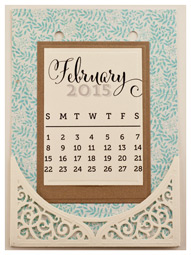 Printed Calendar and printed backgrounds make up 12 months of the year – each page is two sided.

The calendar is made using a clear acrylic frame that's designed to hold a 5 x 7 photo.  That means I could size each calendar page to 5 x 7 and have plenty of border space on the base of the calendar.  The background page is slipped into the frame (it's larger than 5 x 7) then I drilled two holes into the frame and used two metal ring to hold the months.
The calendar is meant to hold mementos.  This Memoranda page is the page that is on the back of each month – it is lined so that you can list the highlights of the month.  In addition, a pocket is adhered to each back page to tuck in all those sweet mementos.
I printed each page out on my Epson XP-300 printer. This is a small inexpensive wireless printer with a fairly small footprint that I purchased at Walmart several years ago.  I have a laser printer at home that I use for most of my printing, so this one I dedicate exclusively to printing for papercrafts.  The quality is decent and the cartridges are moderate.  I'll admit, I did no research before I purchased it, but it seems to fit my needs quite well.
Designer Tip:
Once you're done with the year, this is an excellent project to turn into a mini book.  You'll just add a cover and more permanent binding and it's ready for pictures.  A small case will keep things tidy.


Dies:  Spellbinders Swirl Bliss Pocket, Spellbinders 5 x 7 Matting Basics A
Craft Paper:  Neenah Classic Crest 80 lb Smooth (Cover) – Natural White, Jodie Lee Divine Printable Journal, 2015 Freebie Printable Calendar by Mye De Leon
Ink:  None
Accessories:   Prima Flowers, Recollection Pears,  5 x 7 Acrylic Frame, Metal Rings


Those of you who spotted this on the video have eagle eyes!!  I'm happy to share it and hope it kickstarts your creativity for gift items.  It's a fun project to make and even more satisfying to look at all through the year.  I hope you like!