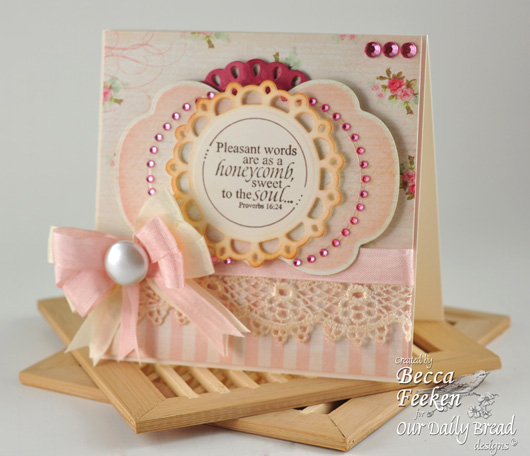 I'm amazed, yes I am!!  You all have sure helped turn my week around. I got to play again today and it feels good to keep my hands busy. Believe me, I have lots of goodies that have piled up on my desk over the last several weeks, so I'm hoping to touch some of them and show you what's new. I'm so excited about some of the new stamps and dies I've gotten my hands on, so get ready :-)  Today, a quick card using a sweet sentiment from Our Daily Bread Designs – Little Things.

I made a small medallion using Spellbinders™ Tear Drop Circles followed by Spellbinders™ Labels Fourteen followed by Spellbinders™ Picot Edge Circles.  I felt my main panel was a little plain so I pulled out some Want2Scrap rhinestones and cut the circle in half putting them on each side of my sentiment – sparkly :-)  That's all – a card done – little triumphs!
I just wanted to let you all know that I do read your comments.  Reading through comments yesterday, I'm so humbled that some of you share your experience not only for me but for other readers too.  It's helpful to me to know that others are going through trials, whether it is health, grieving, medical or just needing a friend.  Please know that I think about you even if I can't seem to sit and respond to each comment individually.  Are you ready for a new year?  I can't believe how incredibly fast 2010 2011 went by!   I would like to live 2012 and be in the moment rather than letting it live me or pass me by – how about you?  Whatever you want to achieve for 2012, I hope it involves something that brings joy to your heart.  You are such a blessing to me!