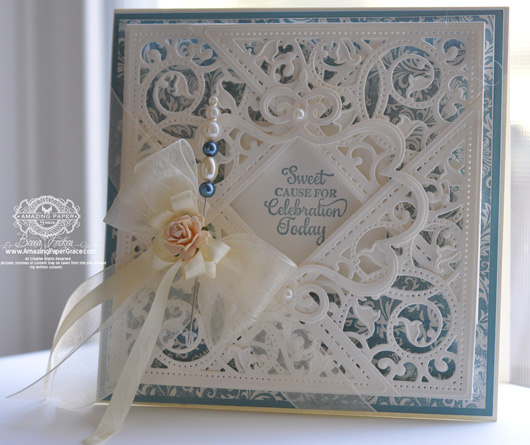 I'm so curious how many of you use a light tent or how many of you take your pictures by natural light?  I'm so in love with the natural light but do so much of my crafting late, late, uh, late at night and find that when I'm ready to take pictures, I'm ready!  I've been having to wait for daylight to come up, so I think I'm spoiled but the truer colors of natural daylight certainly make me go 'hmmmm'.  Ah, the comforts of home – I've been without internet due to weather and have been turning in early because the electricity has been iffy too.  Today I have another filigree card and another stunning background to share; this one is too easy for words!
I started out by stamping my background using by JustRite Papercrafts Floral Flourishes Background stamp and mounting on a card base.  Then after cutting a small panel with Spellbinders™ Classic Squares LG, and stamping a sentiment using JustRite's Circle of Love, I centered in on my background panel.  Then, I simply cut four of the new Spellbinders™ Gold Elements and stacked them in each corner of my paper with the right tip always overlapping the next element.  It makes for a treatment that leaves a sweet little bordered opening in the center – coincidentally just perfect for my sentiment to show through ;-)  I framed it again by using Spellbinders™ Twisted Metal Tags and Accents .  Easy, I tell ya!!
It always tickles me to touch base with you – thanks for taking time out of your busy day to peek in.  I'm well and hope you are too.  I'll be back soon pending daylight and good internet!!