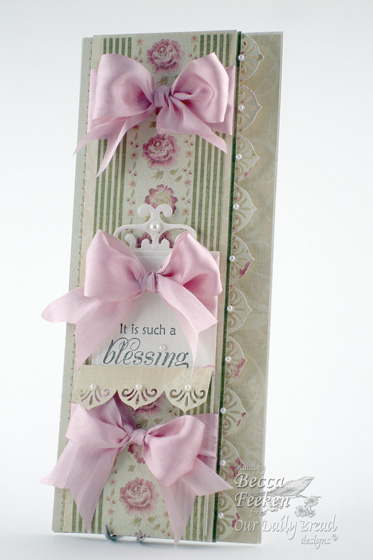 My goodness I feel like I have tons to tell you today. Hang in there until I can tell you about my Blog Candy, okay? Sheesh, I haven't had Blog Candy since forever, but I have some for you at the bottom of this post. First of all, I'm so tickled to share some of the new releases from Our Daily Bread Designs. My card today is from the Friendship set. The challenge was thrown down for the Design Team to create a pocket card using the new sets. I wanted to do something a little bit different than my every day cards, so I came up with this design, a tall skinny card that will fit into a business sized envelope.

The sentiment fits in a pocket on the front of the card. For my sentiment I used Spellbinders Long Rectangles, Large and to the back of that I glued Spellbinders Fancy Tags, so that I'd have a decorative top. The tag is nestled so that just the words "It is such a Blessing" are shown. Hee…hee.. the person will have to pull the tag to find out what the blessing is. The neat thing is that the tag can also be used as a bookmark (it's 5 3/4" tall).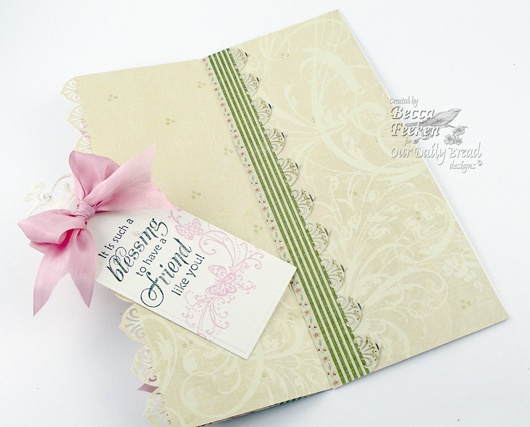 Card Recipe:

Stamps: Our Daily Bread Designs – Friendship
Paper: K & Company, The Paper Company
Ink:
Green dye based ink, Colorbox Chalk Ink – Pink Pastel
Accessories: Spellbinders Long Rectangles Large, Spellbinders Fancy Tags, Ribbon, Pearls, EK Success Moroccan Lace Border Punch
Say would you like to participate in the challenge? Well all the deets are on the ODBD blog. The challenge is to make a pocket card of any style, shape, with as many pockets as you want. There are numerous tutorials on SCS in the Resources Section that you can use, or come up with your own design. Then, link your card to the ODBD Blog by Thursday, September 17, 8:00 pm EST. Winners will be announced on the ODBD blog on Saturday, September 19. Anyone can play along, but only those using ODBD Stamps as the main focal point will be eligible to win. Be sure to visit the ODBD Blog on Sept 19 to find out who won!
Now, on to my Blog Candy!! I am so appreciative of the people who stop by daily and leave me comments, so many of the names are familiar and I consider you friends. The last time I gave blog candy my counter was at 2 million page hits, now it is at 3.5 million page hits – I am more thankful than you can ever know. My journey in blogging was one that brought me through some very sad times and has kept me busy. I still appreciate the company, you all keep me positive and for that I thank you. So again, for your warm patronage I am offering Blog Candy. Here's what I ask – please leave me a comment and let me know what you would like to see more of (excluding tutorials). I expect that many of you will say tutorials – I already know that and will do my best to do more – otherwise, I'm curious to see what kind of cards you are hoping you see when you click the open button.
Feel free to leave a comment on this post every day until I pick a winner. When will that be? Dunno, I always like for that to be a surprise. Plus life is very hectic right now so I'm not sure when I'll have a minute to wind things up. Just keep checking back with me – I'll announce the winner and the winner has 48 hours to contact me to claim their prize before I draw another name. Oh yeah, in addition to the items you see above, I'm giving away two cards. If you have seen something on my blog and it hasn't been sold, I'd love to give two of them to the winner. Thanks for stopping by to see me today, I know that I am blessed beyond measure.