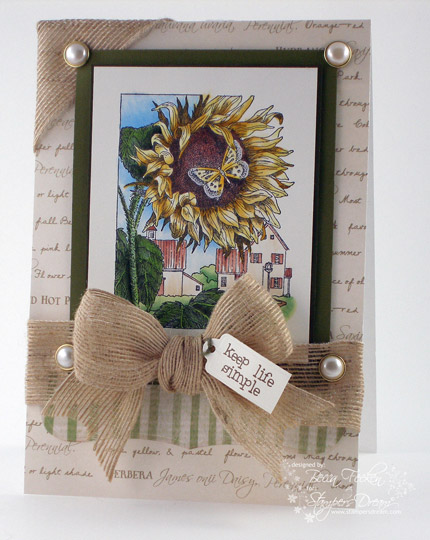 Well it's no secret that I love, love, love Impression-Obsession stamps and have quite a few in my stash. This week Stamper's Dream is doing an Impression Obsession week with some of those lovely images. I am such a fan of Gary Robertson, the artist who does line art drawings for IO. I know I'm gushing but he must have had stampers in mind when drawing because he puts shading and hatch marks in just the right places that make it look like I know what I'm doing when I color it. In other words, it's easy and and it looks like I made a fuss when I really didn't. My image today is an Impression-Obsession image called Sunflower with Butterflies. For the picture below, if you click on it, the linked picture is very large and you will be able to see better.

Just like the tag says, I tried to keep life simple. I colored the image and went with a basic card design. I put a partial cut of Spellbinders™ Labels Eight on the bottom of the card to break up the print and seperate some of the pattern. I also added a simple Spellbinders™ Double Ended Tag for the rub on sentiment I used. I love the jute ribbon because it looks a little rustic. I threw the pearls in there to make things wacky. I love this image!! Next time it's getting distressed.
Card Recipe:
Stamps: Courtesy of Stamper's Dream – Sunflower with Butterflies
Paper: Lasting Impressions – Gardener's Diary, Bazzill
Ink: Memento – Tuxedo Black
Accessories: Spellbinders™ Labels Eight, Spellbinders™ Double Ended Tag, Walmart Ribbon, Michaels Pearls, Copic Markers, Lasting Impression Rub On Sentiments

ETA: Copic Colors used will automagically (don't let this word throw you, it's real) appear here later this morning after I have had my coffee, ugh!!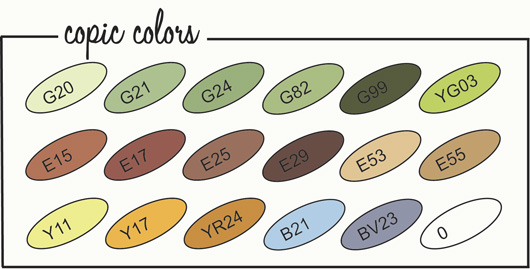 Please be sure to visit the other Stamper's Dream Designers that have special Impression-Obsession images to share with you. You'll get an eye full when you visit Michelle Rodgers, Laurie Schmidlin and a wonderful new addition to the team!!
If you read down this far wanna know how much of a geek I am? Well, I have a little tidbit to share with you. I found the neatest blog the other night which has absolutely nothing to do with stamping. So often when I'm writing my own blog post I envision saying something I'd say in real life but then I wonder if people will think some of the idioms I use as odd. I google them and long story short, sometimes I get it right and sometimes I get it wrong, way wrong. Sometimes when I go back and read what I've written I wonder if people know I'm a college educated woman, lol. The site I found was Grammar Girl. I sat and read and read and read. It's a testimony to my geekiness how excited I got about this site. I even texted my daughter to tell her about it . The apple doesn't fall far from the tree – I'm a stickler at spelling (except mine – **smart alecky grin**), and she's a stickler about correct usage and correct pronunciation with emphasis on the correct syllable. Are you rolling your eyes yet? I'm not perfect, but I cringe when I see a professional sign with misspelled words (yep, in this day and age of the spellchecker).
Well if you made it this far, I think you deserve a prize!! So my regular readers (whom I love dearly) ignore my grammar, but there is a misspelling in this blog post, somewhere. If you already picked it up, you probably thought I was crazy for spouting off about misspellings! If you can find it and email me at my contact page – the first three of you will get one of those cute unfinished little clipboards that I used yesterday to make THIS. If you are one of the three, I'll email you back to get your address. Please know, I have been known to make mistakes so if I goofed and have more than one misspelling, I guess I'll have to add another prize :-) ETA: All the clipboards are gone!