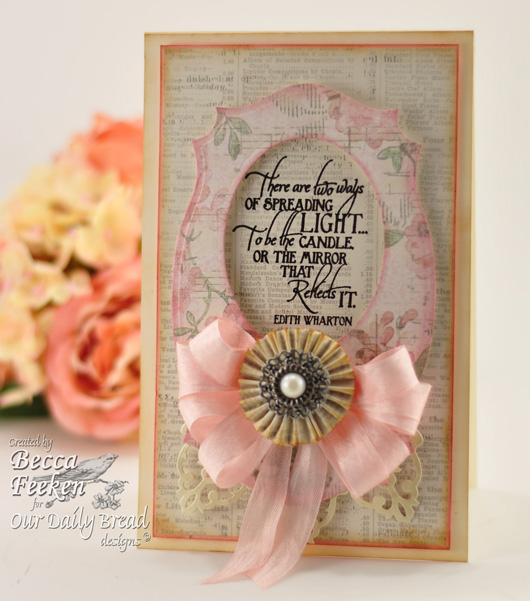 Hello there blog friends!! I'm not blogging from home today — I had every intention of getting this up earlier today but as luck would have it, I don't have good internet availability today. No worries, I've had this card done for a day or two and wanted to get it up. Short and sweet, my inspiration was that I wanted to take Spellbinders™ Labels Twenty Five and make it into a frame with an offset oval. All went as planned except I had to flip my working sketch, that happens some times – I'll try it the other way around another time :-).
Using Spellbinders™ Labels Twenty Five and Spellbinders™ Classic Ovals LG, I determined where I wanted to offset my frame opening and cut then smudged the edges with Victorian Velvet Distress Ink . On the bottom of my shape I added three elements cut from Spellbinders™ Damask Accents and flared them before gluing. Using a sentiment from Our Daily Bread Designs called Spread Light, I stamped and embossed on the main panel then distressed edges with Brushed Corduroy Distress ink and attached it to my card base. This is a five wrap bow made on the Peg Bow Maker – just like a double or triple wrap but I wanted lots of loops so I boosted it up to five. For my final accent I accordian folded a 1″ x 12″ piece of cardstock, glued it down on a punched circle then added the filigree and pearl on top. This is another easy one that I'll add to my "get a card done quick list" – in fact I have two variations on this that I'll share in the coming month.
Thanks for stopping by, see you soon!!