Spellbinders Paper Arts
"To Die For!!"
Winter Release
Blog Frenzy
January 10 – 18, 2011
Welcome to the third day of the Spellbinders Paper Arts "To Die For!!" Winter Release Blog Frenzy!
Spellbinders™ Paper Arts' has been working hard to bring you another selection the most innovated and beautiful die templates in the world.  The To DIE For!! Winter Release Blog Frenzy allows you a sneak peek of the products we're introducing at the Craft and Hobby Association trade show later this month. The To DIE For!! Winter Release Blog Frenzy is from January 10 – 18, featuring 16 fabulous Designers and prizes To DIE For!!
Win today's new die templates!

Be eligible to win the Grand Prize by entering each day from each blog!

One entry per person, per blog please, on the designated days!

Each contest is open for 48 hours to enter the contest!

You have until

12:01am Central Standard Time, January 14

, 2011 to enter my contest.  Be sure to read the Official Rules before entering so that your entry will be valid!
These are the Designers and their contest dates:
January 10
Debbie Olson
Donna Salazar
January 11
Kazan Clark
Judy Hayes
January 12
Becca Feeken My pleasure to welcome you!!
AJ Otto
January 13
Sherry Cheever
Deborah Young
January 14
Latisha Yoast
Mona Pendleton
January 15
Linda Duke
Gina Hanson
January 16
Kimberly Crawford
Ashley Cannon Newell
January 17
Heidi Blankenship
Julie Overby
Daily contest winners are randomly chosen from valid entries, as stated in the Official Rules.  The winners will receive an email within 24 hours of the contest's closing. The winners will have 72 hours to reply to that email to claim prize.  If a winner fails to respond within 72 hours, a new winner will be drawn.
Entrants that send valid contest entry emails to each of the contests will be automatically considered for the Grand Prize.  The Grand Prize has a retail value of over $800, and includes Spellbinders CHA Winter 2011 release die templates revealed in the Spellbinders To DIE For!! Winter Release Blog Frenzy and a Grand Calibur™ die cutting/embossing machine!
Thank you, Spellbinders Paper Arts, for sponsoring this contest!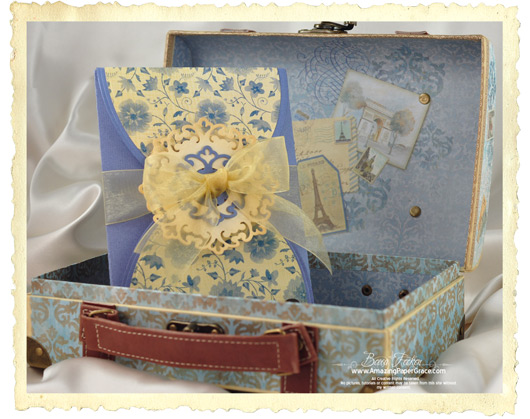 I'm thrilled to share two die template sets with you – S5-034 Parisian Accents and S5-035 Parisian Motifs.  For my first project I've created a card with a separate jacket.  The largest template of the S5-035 Parisian Motif set graces the front of the jacket.  The frilly motif serves as the focal point of the jacket and by cutting out the center using S4-116 Standard Circles SM (#2).  I'm able to simply interlock the largest template of the S5-034 Parisian Accents set for a matching look that is both elegant and lacey.  There are so many options with the motif and accent sets that I can see myself doing a bit of interlinking and building different shapes.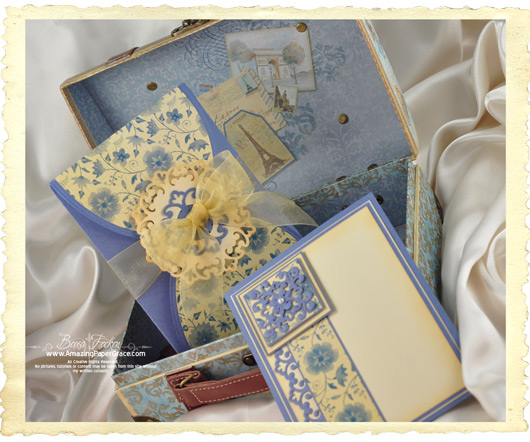 Here you can see the enclosure card that fits inside the jacket.  It's a big card measuring 5.5″ x 7.5″.  As decoration I used the border from S5-034 Parisian Accents, which at 9 inches in length more than accommodates my tall card.  For the frilly medallion on the card I used four of the corner piece elements found in S5-034 Parisian Accents.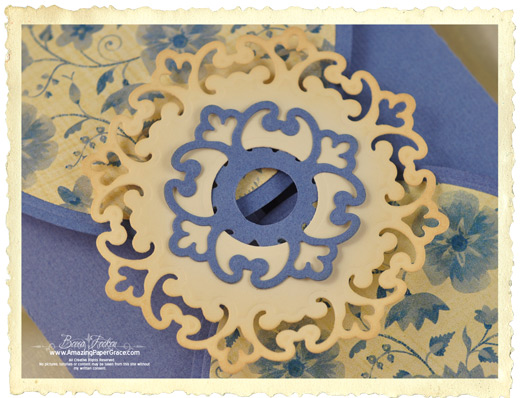 The card has an simple closure – the ribbon that wraps around the back of the card comes through the center hole to be tied in a bow which secures everything inside.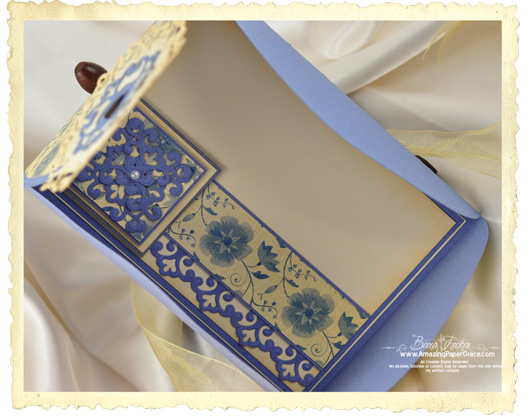 The jacket features a four flap closure made using LF-110 Grand Ovals.  The jacket is designed to be flat however scoring the flaps a little bit differently will yield a jacket that can accommodate a thick card or two.
For my next project I designed a Mothers Day gift that has a bit of a vintage flavor.  The goodie bag, made using LF-161 Grand Labels One, is embellished with a frilly flower medallion.  To accompany the bag, there is a feminine nosegay.  Both the base of the nosegay and the base of the medallion are the same, I simply changed the uppermost layer to give each some charm.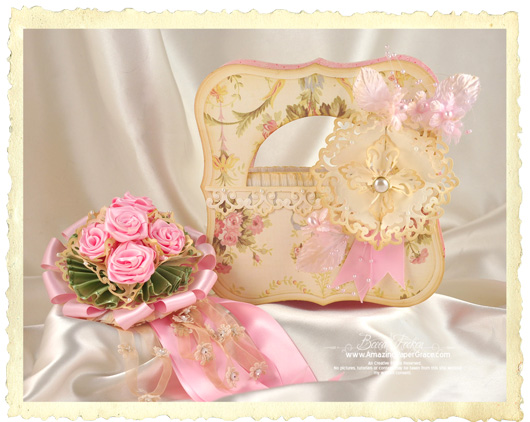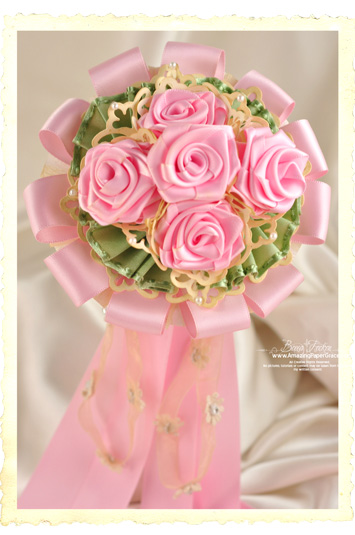 The nosegay has five twirled pink roses with long ribbon tails that are threaded through each layer of the holder.  It is made using the same base as the medallion but both pieces look entirely different, lol!
I'm going to take you though how to make the dimensional lacey flower medallion that serves as the base for both the flower on the bag and for the nosegay. 

These are the Spellbinders products I introduced:



Parisian Accents
SKU# S5-034
MSRP $24.99
Measurements:
1: 1¼ x 7/8″
2: ¾ x 2½"
3: 1¾ x 1¼"
4: 1¾ x 1¼"
5: 2½ x 2½"
6: 1¾ x 3 1/8″
7: 7/8 x 9″
Parisian Motifs
SKU#  S5-035
MSRP $24.99
Measurements:
1: 1 x 1″
2: 1¼ x 1¼"
3: 2½"
4: 2½"
5: 4 1/8″
Click here for the Spellbinders Paper Arts To DIE For!! Winter Release Rules.
TO ENTER MY CONTEST: (Contest is open for entries from 12:01 a.m. January 12, 2011  to 12:01 a.m. January 14, 2011 Central Standard Time)
1)  Send your email entry to:  Reveal5@spellbinders.us (either click the link or type the address into your email program)
2)  The subject must be Parisian Accents and Parisian Motifs.
3)  Send!
I love your comments!  Unfortunately your comment does not count towards a contest entry, so be sure to enter and then leave a comment!
If you have any questions, please e-mail ContestQuestions@Spellbinders.us
Thank you for visiting and good luck!!