Spellbinders Introduces:
Shapeabilities Pendants Blog Frenzy
June 22 through June 29th, available for ordering June 30, 2009
---
Edited to Add: Thanks to everyone who entered the Spellbinders' Shapeabilities Pendants Blog Frenzy to win my Die Template releases. You can no longer enter to win my release. Please check out the links below to enter the contest on other blogs.
Check the Spellbinders Blog for the announcement of Daily Winners.
Commenting on this post is welcome but does not enter you into the contest. This contest is sponsored directly by Spellbinders Paper Arts. Please read the post to find directions for entering. If you have any questions, please e-mail PenContestQuestions@Spellbinders.us
Welcome to the First day of Spellbinders Pendants Blog Frenzy!
Spellbinders is celebrating the introduction of Pendants die templates, a new die line that will inspire your creative mind. You have the opportunity to win the Pendant and Borderabilities die templates I'm introducing today by entering the contest at the end of this post. Be sure to read all the rules before entering! You still have until June 23rd, 11:59 pm EST to enter for the dies I'll be showing you today.
What a pleasure it is for me to kick off the Blog Frenzy with this new Spellbinders product! As you will see, it is right up my alley! With all the techniques on punching that I've displayed and played around with, Spellbinders hit a home run in my book with the Pendant die templates. I was thrilled beyond words to see that now I'll be able to make the same type of round motif medallions with one pass of my Wizard! (Remember, these die templates are universal and work with other popular die cut machines). The possibilities are endless with stacking, off-setting, framing and removing the centers.
Remember, these die templates can only be seen on Spellbinders Designer blogs and there will be 8 days of reveals. As always, there is an opportunity for you to win these templates so I'd encourage you to take care and read my entire post carefully to make sure your entry is correct, ensuring your eligibility to win.
Here is a complete list of the line up. To see or to go to any of the ones coming up, feel free to visit the following:

June 22, 2009 – Becca Feeken
http://www.amazingpapergrace.com/
June 23, 2009 – Debbie Olson
http://debbiedesigns.typepad.com/
June 24, 2009 – Michelle Wooderson
http://michellewooderson.blogspot.com/
June 25, 3009 – Keri Lee Sereika
http://pinklemonade.typepad.com/my_weblog/
June 26, 2009 –– Sherry Cheever
http://sherrycheever.blogs.splitcoaststampers.com/
June 27, 2009 – Heidi Blankenship
http://embellished-dreams.blogspot.com/
June 28, 2009 -– Linda Duke
www.lindaduke.typepad.com/
June 29, 2009 – Jennifer Davis
http://www.preservationarts.com/
I know you are dying to see exactly what a Spellbinders Pendant die template is, so I'd like to present to you, two new Spellbinders sets:
S4-204 Fleur De Lis Pendants – MSRP $24.99 per set

S4-213 Fleur De Lis Borderabilities – MSRP $19.99 per set

The Fleur De Lis shapes are the epitome of absolute elegance! My mind immediately goes to wedding, vintage, invitations, favors – you get the picture. The S4-204 Fleur De Lis Pendants include a large pendant, a center pendant and two accent pieces and has a MSRP of $24.99. It's no coincidence that the center pendant fits exactly in the middle of the large pendant. This will enable a matched cut out or very stylized frame but the center pendant can also be stacked on top! Then the two small accent pieces are of the same scale and size that you can use them separately or stack them on top of any of their matching outlines on the large or center pendants. Pendants are symmetrical and perfectly sized for a card with the large pendant measuring 3 3/4" x 3 3/4" and the center pendant measuring 1 7/8" x 1 7/8".

The S4-213 Fleur De Lis Borderabilities are made to work with both cards and scrapbooking with a perfect cut size of 1 x 5 1/2" for both and has a MSRP of $19.99. The first Spellbinders Borderabilities die template with the fleur outline, is open-ended which will allow you to make a continuous border. The top edge does not cut which will allow you to incorporate a border as a part of your page. The second Spellbinders Borderabilities die template cuts on all edges allowing you to place the border as you will.
I have two projects to share with you today. For the first project, a card called Make A Wish, I have included step by step directions to show you how to use the Pendants. For the second project, A Vintage Gift Set with Keepsake Ornament and Box, a tutorial will be coming soon.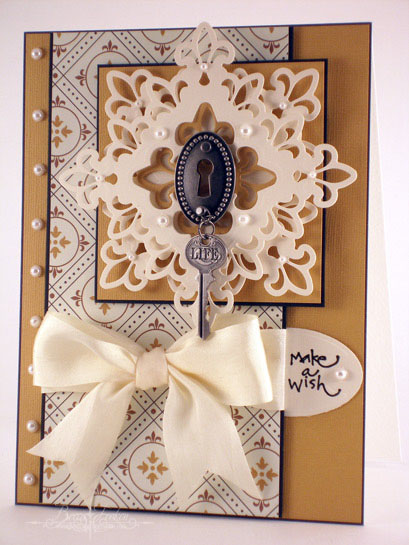 Here is a closer look at the Pendant:



Here is a step through on how to make the card:



Card Recipe:
Stamps: Printworks
Paper: Bazzill, S.E.I Windsor
Ink: Versafine Black Onyx
Accessories: Spellbinders S4-204 Fleur De Lis Pendants, Spellbinders S4-081 Tags 5, Tim Holtz embellishments, May Arts Silk Ribbon, Pearls
My second project is a vintage ensemble that includes a card, Keepsake Ornament and a Keepsake Box to hold the ornament. The ensemble uses the S4-204 Fleur De Lis Pendant as well as both of the die templates of the S4-213 Fleur De Lis Borderabilities. Here is a closer look at each piece of the ensemble:



The card
The Keepsake Ornament
Keepsake Box and Ornament
Ensemble Recipe:
Stamps: Stampendous (sentiment on card)
Paper: The Paper Company – Cream White, Prima, Bazzill
Ink: Versafine Onyx
Accessories: Spellbinders S4-204 Fleur De Lis Pendants, Spellbinders S4-213 Fleur De Lis Borderabilities, Spellbinders S4-081 Tags 5, Prima Flowers, Pearls, Mays Arts Silk Ribbon, Chipboard, Empty Ribbon Spool
So now, keep reading to find out how you can get this Pendant die template set!
After the entry deadline is reached, Spellbinders will randomly pick one entry from each Blog Frenzy reveal as stated in the "Rules". Winner will be contacted by e-mail within 24 hours of the contest deadline. Winner will have 72 hours to reply to that e-mail to claim the prize. If Winner fails to respond within 72 hours, a new name will be drawn for said prize. Winner will receive the new die templates being revealed on the specific daily blog post they are entering.
Entrants visiting all 8 Spellbinders Pendant Reveals and correctly entering their information into the separate drawings, as described below, will automatically be entered into a GRAND PRIZE give away of a full set of the 8 Pendants die templates and 8 matching Petite Border die templates being revealed.
Rules
Any participant wishing to be included in the daily drawing for the Spellbinders Pendants die templates Blog Frenzy give-away must adhere to all of the following rules. We are happy to welcome US and international blog guests for this Frenzy.
To enter each drawing on sneak peeks between June 22 and June 29, visit the reveal blog and click on the contest link to reveal an e-mail window. In the subject line of the e-mail, enter the die template name being revealed. Each blog reveal will remain open for 48 hours. Only 1 entry per blog is allowed and participant must use the same email address daily to be considered for grand prize entry, no exceptions. Please consider whether you will have access to the same e-mail address from June 22nd through June 29th and plan accordingly.
Spellbinders Design Team members and employees are not eligible for drawings.

Any participant wishing to be automatically entered into the drawing for the Pendants Frenzy Grand Prize must enter all 8 blog reveals and follow all the above rules.
Please note:
*Spellbinders will only use email information to contact the winner.
*Spellbinders will not share this email address with any other parties.
*Spellbinders will not use this email information for advertisements or communications other than to contact the winner.

*If you wish to be included in further communications from Spellbinders, please go to their homepage SpellbindersPaperArts.com and sign up for their newsletter.

For more Spellbinders product release information go to
SpellbindersPaperArts.com/blog

If you have any questions regarding the contest, send an e-mail to:
PenContestQuestions@spellbinders.us
Thanks so much for joining me for the reveal of the new Spellbinders Pendants. This is only the beginning and the other designers have great reveals in store for you too. I hope you'll find time in your day to visit with us through out the entire eight days!