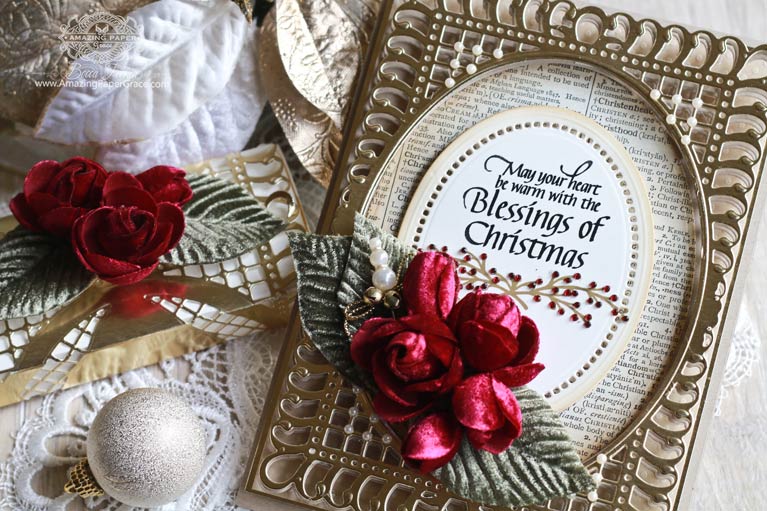 Please note:  The Giveaways are all closed.  Please scroll to the bottom for winner of Spellbinders Gift Certificate.
Good morning sweet friends.   I'm tickled to be participating in the Spellbinders November Inspirational Hop and several giveaways.  It just so happens that a collection I've designed is in the mix today and I'm so excited to share a little bit about the Chantilly Paper Lace Collection.  The collection features embellishments as well as five layering frames that can be used alone for a quick card front, they can be cut together with a hinge for a shaped card or they can be layered over each other for a sweet romantic feel and enchanting look.  I'm so blessed to be a die designer and very much design what comes from my heart as well as feedback that I get from this wonderful community.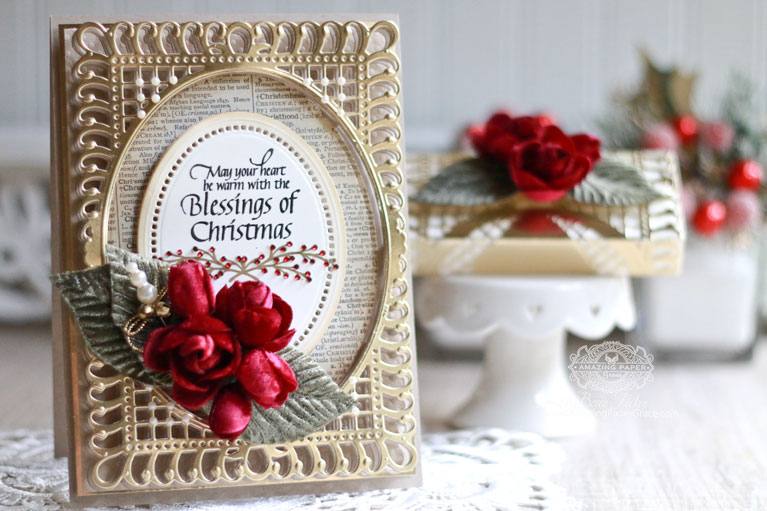 If you are new visitor on my blog today, I hope you'll subscribe :-)  I'm a long time card maker and on the blog – for inspiration –  I have a pretty large visual gallery of samples, sortable by die name (color, style, size and occasion) that I've been building for the past 10 years.   I typically make fancy custom cards with unique layering.  If you've one of my subscribers then you well know that I adore ensembles.  I got started in papercrafting because I wanted to make a card to match the gift or gift box I was giving.  Along that vein, today I'm using Spellbinders Bella Rose Lattice Layering Frame  (my clear favorite) for a classic, elegant Christmas card and matching box ensemble.
The Card

One of things I'm loving about Spellbinders Bella Rose Lattice Layering Frame is that it can be cut so many ways.   Today I wanted a deep frame so I layered up the largest diecut without the center pieces.  I stacked three dies with foam tape between them and laid in a background from a vintage dictionary.  I added a focal panel cut with Spellbinders Hemstitch Rectangles and stamped a sweet Quietfire Design sentiment in two colors.  For the finishing touch I fussy cut velvet petals and rolled them into flowers – I wanted to rich green and red to signal traditional holiday colors.
The Box

The cream box is a simple one with a hinged lid closure.  From Spellbinders Bella Rose Lattice Layering Frame I scored 7/8″ and 2-3/8″ from each end.  This created a wrap.  The loops from the end of the diecut overlock each other (total coincidence) to complete the closure and box simply slides inside the wrap.  To finish it off, I added flowers!
Supplies
Stamps:  Quietfire Design – May Your Heart Be Warm
Paper:  Neenah Desert Storm – 80lb Smooth – Cover, Metallic Gold Poster Board, Bazzill – Sandbox
Ink:  Versafine Onyx Black, Colorbox – Dark Moss, Ranger Distress Inks – Brushed Corduroy
Accessories: Amazing Paper Grace Dies, Spellbinders Bella Rose Lattice Layering Frame, Spellbinders Hemstitch Rectangles,  PL-001 Platinum™  Die Cutting And Embossing Machine with 8.5″ Platform, Velvet, Recollection Pearls, Corsage Pin, Recollection Gems
Two Giveaways
To celebrate this release, Spellbinders is giving away a $50 gift certificate to FIVE lucky winners. Please leave a comment on Spellbinders blog by Sunday, November 26th 11:59 pm EDT for a chance to win. The winners will be announced in the blog hop post on Spellbinders blog the following day.
I also have one $25 Spellbinders gift card to give away to one lucky commenter that can be redeemed through Spellbinders! For your chance to win, please leave a comment below – tell me how many Christmas Cards you make each year.  I'll pick a winner on Sunday, November 26th and will edit the winners name into this post.
Blog Hop List
Here's the list of all the bloggers for todays hop.  Get ready for some awesome inspiration!
Spellbinders
Jennifer Mcguire
Becca Feeken – You are here :-)
May Sukyong Park
Yana Smakula
Jenn Shurkus
Debi Adams
Taheerah Atchia
Stephanie Low
Laurie Willison
Keeway Tsao
Simon Hurley
Erum Tasneem
Laurie Schmidlin
Tiffany Solorio
Nicole Picadura
Thank you so much for stopping by!   Always thrilled to meet new cardmakers – if you see me on Facebook or Instagram – give me a holler :-)
Edited to add on 11/27/17 – the winner of the Spellbinders Gift Certificate is Elizabeth Pollock.  Please email me through my contact tab at top of blogand I will give you redemption information. :-)