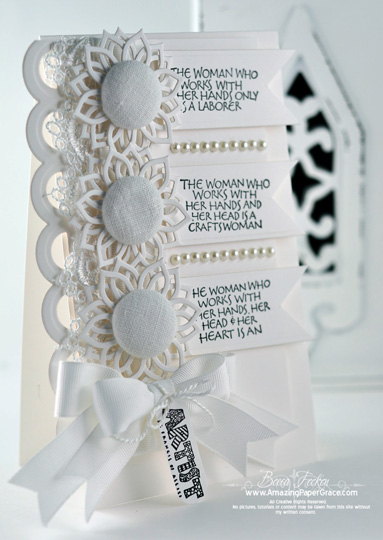 Hi there blog friends!!  Somehow I thought a white card would be easy.  Ahem.  Not so.  Not so probably because I was soooo intent on making one.   I worked on it long enough, so I thought I would share it.   Every once in a while I love the starkness of black and white.  I had the perfect Wordsworth stamp that lent itself to dividing into four parts.  I also came up with these sweet little flowers using new Spellbinders S5-067 Anemone Flower Topper.  These I'll use like this again, I'm making a larger one with a brooch in the center.  The only difference with the flowers as I used them now and when I used them last week is that I cut the center from them this time.  I really love the open look of the flowers.
Along the side I used one of the fab new Spellbinders Edgeabilities (E8-001 Classic Scallops).  I cut each part of the sentiment from Spellbinders Long Classic Rectangles and then cut a pie shaped piece from the end of each piece.
SUPPLIES I USED
Stamps:Wordsworth –  The Woman Who
Paper: Xpedx Brilliant White Cover
Ink: Versafine Black Onyx (clear embossing powder)
Accessories:
Spellbinders Long Classic Rectangles,Spellbinders Edgeabilities (E8-001 Classic Scallops), Spellbinders S5-067 Anemone Flower Topper, White grosgrain ribbon, laced, metal buttons, linen, pearls.

I'm all good now on the internet, but I feel like everything I touched over the last couple of days was touched by Murphys Law.  I've got to be on the good side now but if you are mildy curious, here was my adventure . . . 

Thursday early morning – dog in surgery.
Thursday morning – reboot laptop.  After reboot laptop no longer works.  3 hours to restore.
Thursday afternoon – try to load video software on desktop.  Nope, not without an upgrade.
Thursday evening – start upgrade – it runs all night.  Test video – yay, I can use other camera now.
Friday morning – no internet.   Call Comcast.  It's not them . . . bad router and switch.
Friday afternoon – off to Best Buy for a new router and switch.
Friday afternoon – stop and pick up groceries.
Friday afternoon – discover I lost IPhone at the grocery store – back to try to find it.  Retrieved and relieved!
Friday afternoon – spend rest of day installing new equipment.
Friday evening – internet drops every 10 minutes.
Friday night – do research only to find out the rest of the world had same problem with that brand of router.
Friday night – despondent over internet, go to dinner with girls.  On the way home it rains so hard the road floods immediately.  Ask girls what's that strange noise?  The girls said it was just the hard rain.  It was the sound of me dragging my car's front bumper all the way down the street. It somehow came off?  Even though I was going about 10 mph because of no visibility – it's obvious that the bumper met with a tragic event.
Friday midnight – try to get blog post up in spite of up and down internet signal.    All of a sudden, power went off then back on three times within 3 seconds.  Turn desktop back on – desktop no longer works – system fan error message.  (What?!?  I'm sad, motherboard was just replaced in this desktop 4 weeks ago.)
Saturday morning – pack up router and switch – back to Best Buy.
Saturday mid-day – back home with new router and switch to install.
Saturday afternoon – Router and switch are good.  Yay, continuous internet!
Saturday night – Becca goes to make a card to celebrate hopeful end of Murphy's reign.

Crazy hunh?  Take care friends, I'll see you soon!!