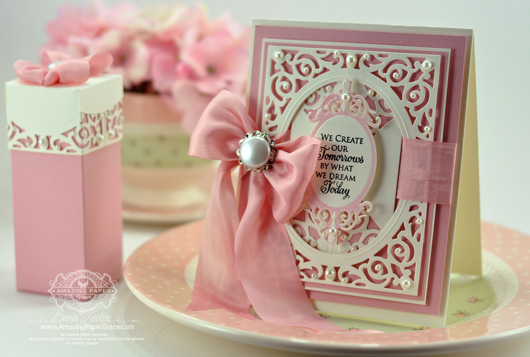 Hi there blog friends!  Welcome to Spellbinders Explore Beyond Day 6!!  I'm back again – but this time as a Spellbinders Licensed Designer (big inside grin).  It has been a whirlwind since I released my first official Spellbinders die template and since I've been so busy creating with the tons of fabulous dies created by the other designers, I wanted to circle back around for a minute.  So while I'm taking time out again to play with the template that I created, I wanted to share another creation with you.  Are you surprised that it is another box?  Yes, I'm on a box kick, but here is my thinking — how cool is it to make a card and always be able to have a matching box (that's simple to make and out of the same die template)!  I know!!  The card and box ensemble are made using Spellbinders™ A2 Filigree Delight.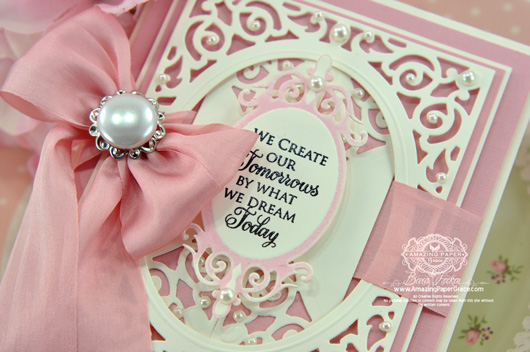 It's a super simple box, I'll show you the lid from both sides :-)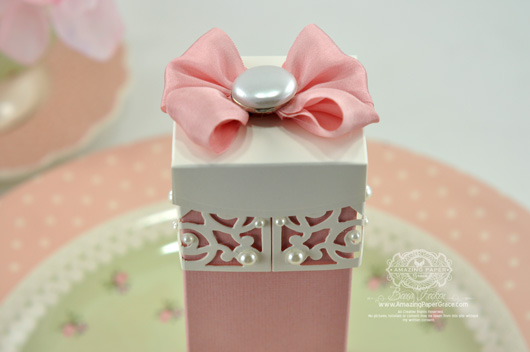 I'll be doing a tutorial of the box in the not too distant future, in the meantime, here is a quick run through on how to make the card:
1.  From cream paper cut a card base 12″ tall by 5″ wide, score in half so that folded card is 6″ tall by 5″ wide.




2.  As shown above, layer a pink panel cut 5-7/8″ tall by 4-3/4″ wide to card base using foam tape (leave liner tape on bottom foam tape so it can be lifted to secure ribbon).




3.  Next, adhere a pink panel cut to 5-1/4″ tall by 4-1/8″ wide to a cream panel cut to 5-3/8″ tall by 4-1/4″ wide and adhere to card base.




4.  Cut/emboss Filigree Delight largest die two times.  Once with large oval and once without large oval.  For filled Oval, gate fold the panel on the tall side so that the top and bottom meet in the middle – insert pink paper in center and diagonal cut each edge.  Embellish with both oval panels with pearls.




5.  Using foam tape, mount the hollow oval to cardbase fitting the gatefold panel behind and inside the oval opening.




6.  Run ribbon behind gatefold panel and in front of hollow oval and lift last pink layer to secure ribbon on back of card.




7.  Cut/Emboss small motif rimming with ink for border; stamp sentiment.




8.  Glue bow to left edge of card.
It was much fun playing around with Filigree Delight.  I hope you are enjoyed the Blog Frenzy and all the fabulous creativity the team is showing!!
Want a chance to win some fabulous Spellbinders goodies – to enter click HERE.
Remember, in addition to the blog frenzy prizes above, there is a bonus for stopping by my blog.  I'm giving away a little stash of stamping goodies plus this sweet little box in this post found at this link —>   http://www.amazingpapergrace.com/box-of-blessings/  I did a video tutorial on last week and many of the ladies mused how they would love to have it – here's your chance!!  You can leave a comment on today's post on my blog and yesterday's post on my blog and I'll be picking a winner on March 3rd.  Thanks for stopping by, I'll see you soon!!