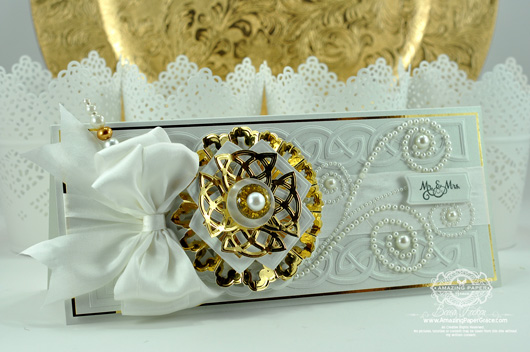 Greeting blog friends!!  Welcome to the Spellbinders Explore Beyond Blog Frenzy and Giveaway!  I have two projects to share with you today, the first is smack dab in the middle of my comfort zone and for the second I'm actually 'exploring beyond' to try something just a little bit different :-)  For the first project I wanted a memorable wedding card so I picked my colors of white and gold and used Spellbinders™ Celtic Accents and Spellbinders™ Celtic Motifs for a dazzling accent of unique swirls and fine detail.  The occasion called for a long format card that fits into a #10 envelope.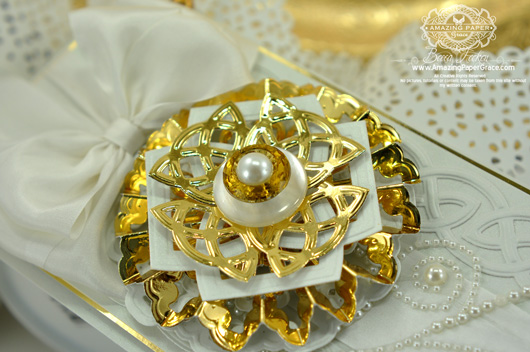 There's a bit of dimension with the raised medallion and I used the border for a tone on tone accent.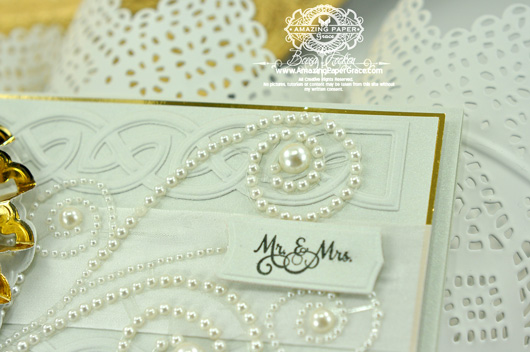 The card has many details, but it's a cinch to make and uses few supplies!
SUPPLIES
Die Template: Spellbinders™ Celtic Accents, Spellbinders™ Celtic Motifs
Cross Promotional Partners:  JustRite Papercrafts – Everafter Antique Labels, May Arts 1.25″ Silk Ribbon SK01, Imagine Crafts – Tsukineko Versafine Onyx Black, Want2Scrap – Maxxi Girl Pearls White
Supplies:  Coredinations Pearl Cardstock, Colorbok Gold Foil Cardstock 12″x12″, Bazill Button, White Button, Recollection Pearls, Ranger Glossy Accents, Brad, Darice Gold Pearl, Maya Roads Trinket Pin, Becca's Bow Maker
Here's how:
Cut/emboss two of the long borders and mount them on the card (using Glossy Accents) width wise with a strip of ribbon in between, securing on the back and adhering to base using foam tape.  Apply swirl of pearls to right end and attach stamped sentiment.




Cut/emboss the pieces shown above making sure gold piece centers are hollow and white piece center is filled.




Clip as shown then accordion fold and glue gold pieces together.  Glue by laying one edge on top of another and securing with two glue dots or glue.




Cut/emboss four of the rounded triangle pieces and secure in corner with a brad then stack the elements as shown above.




Add bow and trinket pin on left side of card.
Now on to my second project for today…
I've always wanted to try embossing paste using Spellbinder die templates.  You never know these things until you try, so I put on my brave hat and rescued some black tiles from a remodeling project.  I cleaned the tiles off and spread Dreamweaver Embossing Paste across the template which I masked with painters tape then removed leaving the relief of the Celtic pattern.  I got so excited about this, that I'll be trying again with mat board and have some gold paste coming my way.  I love the dimension!




I assembled the tiles into an accordion fold book and inside I put some of my favorite Quietfire quotes as well as a place to journal some gratitude.




Each of the inner pages is rimmed with gold and the same gold leaf pen used to fill in the corners before overlaying a celtic embellishment.




The above picture shows the tile front cover and back cover of the accordion album, side by side.
So is there anything you have on your "want to try" list?  Come on, be brave, tell me what it is!!   I've found that experimenting around makes me eager enough to plunge into new techniques.  I encourage you to embrace your curiosity and try those things on your 'want to try' list; do it – one by one.
SUPPLIES
Die Template: Spellbinders™ Celtic Accents, Spellbinders™ Celtic Motifs
Cross Promotional Partners: Quietfire Design – Life is a Pure Flame, And the Day Came, We Are Never So Lost, There are Two Things We Can Give,  Journal of Gratitude Book Stamps, Imagine Crafts – Tsukineko Versafine Onyx Black
Supplies: Home Depot Ceramic Tiles 3″ x 6″ (Black), Dreamweaver Embossing Paste, Strathmore Black Art Paper, Krylon Gold Leaf Pen, Georgia Pacific White Cardstock, Recollection Pearls, Studio His and Hers™ Adhesive Pearls, ScorTape, Gold Ribbon

---
To Enter Today's Giveaway… Click HERE. 
For official giveaway rules… Click  HERE.
---
Thanks so much for stopping by today!!  Be sure you stop by to see Windy Robinson who has a wonderful Spellbinders project today too!!
Questions? Click here to send email to: CustomerSupport@spellbinders.us
 No entries will be accepted at this email address.