Welcome to the Second day of the Spellbinders Abilities and Beyond Blog Frenzy!
The entry window for the Spellbinders Paper Arts contest on this blog has ended.
Don't forget that you still have time to enter at the blogs listed on the Spellbinders blog.
Thank you! Spellbinders™ Paper Arts is absolutely thrilled to bring you our largest product releases ever!  These new collections are some of the most innovative and beautiful die cutting and embossing templates in the world!  The Spellbinders Abilities and Beyond Blog Frenzy allows you a sneak peek of our introductions for the 2012 Winter Craft and Hobby Association trade show later this month. 
 Win today's new Spellbinders products!
Be eligible to win the Grand Prize by entering each day, see the schedule below!
Enter my Blog Frenzy from 12:00 am Eastern Standard Time (EST) January 13, 2012 until 11:59 pm January 14, 2012.
You can enter yesterday's blogs, Debbie Olson, Latisha Yoast and Michelle Woerner through January 13 at 11:59 pm EST.
See the Spellbinders Blog for the complete schedule of designers and contest rules.
Thank you Spellbinders Paper Arts for sponsoring this contest!

There's a little princess in each and every one of us, wanting to get out.  Some days we're the princess of quite a lot, sometimes we're a princess because people love us, sometimes we're a princess because we need a boost and being a princess makes us feel nice.  Today, you're the princess and I have your crown and magic wand ready!   I was inspired by a  whimsical play tiara that my sister gave me – it lives in my craft room.  She put it on me to make me smile on the day we took my blog picture above.  Every now and again when mojo seems to have left me, I sneak in and put it on!!  From the first moment I saw Spellbinders S5-078 Persian Accents and Spellbinders S5-079 Persian Motifs, I thought the border looked like a tiara.  Each element looks both vintage and regal.  Each piece is delightfully filigreed and easily stackable with so many different options.  I have several close up shots so that you can see the beautiful detail on each die template!!
The wand is very light with ribbon streamers and uses foil, cardstock and decorative pearls and bling.  It's essentially a medallion, and the back layer is flat and was cut from the foil.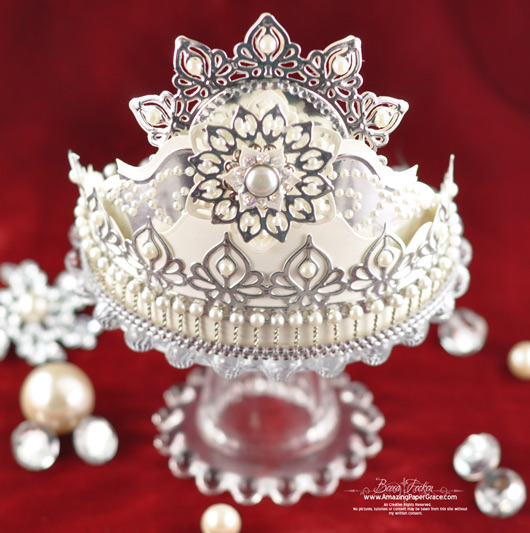 The medallion I created for the wand has the same layers as the medallion that forms the central peak of the crown.
The layers on the crown are less than 1/2″ and is able to sit flatly on a wire base which you can see above.  Below is one last close up for detail.
Here are the new dies I introduced:
My second project had to have pink!!  I've created a dimensional envelope to house a small card and have created a bag with a vertical belly band as an accessory.  I'll be teaching you how to make this ensemble today.
Below is a picture of the opened envelope with the card inside.
Below is a view of the small card sitting on the entirely opened envelope.
Below is a picture of the accessory gift bag with vertical belly band.
I've put together a video below to show how I made the ensemble here is the link:
Here are my supply lists for both projects:
SUPPLIES I USED
Crown/Wand
Accessories:
Spellbinders™ S5-078 Persian Accents, Spellbinders™ S5-079 Persian Motifs, Spellbinders™ S5-026 Labels Twenty,Spellbinders™ Precious Metals Premium Craft Foils Assortment, Recollections Rhinestones, Recollections Pearls, Spare Parts Brads, ScorTape, Zva Creative Pearls, Wire Headband, Hobby Lobby Glittered Ribbon Trim, Hobby Lobby 1/4″ Ribbon Trim, Gartner Ivory Gold Pearl Seals, Prima Monarch Diamond Flower Centers
Stamps: None
Paper: Neenah Classic Crest Cream 80 lb cover
Ink: None

Note Ensemble/Bag with Vertical Belly Band
Accessories: Spellbinders™ S5-078 Persian Accents, Spellbinders™ S5-079 Persian Motifs,  Spellbinders™ S4-114 Standard Circles LG #7, Spellbinders™ S4-116 Standard Circles SM #2,  Recollections Pearls, Magnet Disks, EK Success Corner Rounder, Gartner Ivory Gold Pearl Seals, ScorPal, Scortape, 3M Foam Tape

Stamps: Waltzingmouse Cameo to Go
Paper: Neenah Classic Crest Cream 80 lb cover, Bazzill Vintage Pink
Ink: Ranger Victorian Velvet Distress Ink


By entering the Spellbinders Abilities and Beyond Blog Frenzy you agree to the Official Rules.  For questions on the Spellbinders Abilities and Beyond Blog Frenzy, send an email to contestquestions@spellbinders.us; no entries will be accepted at this email address.
TO ENTER:
My blog is open for entries from 12:00 am, January 13, 2012, until 11:59 pm, January 14, 2012, EST.
1) Send your Blog Frenzy email entry to:   Entry time is now closed
2) The subject must be S5-078 Persian Accents and S5-079 Persian Motifs.
3) Send!
Be sure to visit all the Designers on their Blog Frenzy dates!
Daily winners will receive an email within 24 hours of the blog frenzy's closing. The winners will have 72 hours to reply to that email to claim prize. If a winner fails to respond within 72 hours, a new winner will be drawn.
To be eligible for the Grand Prize, enter each and every Blog Frenzy within its designated time period, send your entries from the email address for each entry.  The Grand Prize has a retail value of over $1900 and includes the complete Spellbinders line of die cutting  and embossing templates released at the 2012 Winter CHA show, and a Spellbinders Grand Calibur® Die Cutting and Embossing Machine!
I love your comments!  Unfortunately your comment does not count as an entry, so be sure to enter as stated above, and then feel free to come back and leave a comment!
Thank you for visiting and good luck!!
To receive information and announcements from Spellbinders, sign up for the Newsletter and subscribe to the Spellbinders Blog. Find us on Facebook, Twitter, and YouTube and Pinterest.
Thank You!
Spellbinders and M-Bossabilities are trademarks of Spellbinders Paper Arts, llc.
Grand Calibur is a registered trademark of Spellbinders Paper Arts, llc.