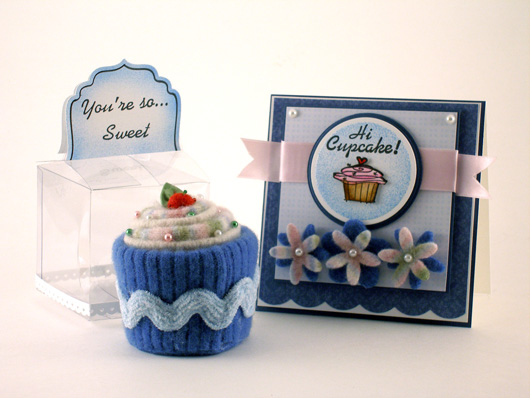 Speaking of Pincushions . . . I realized that I had not shared this one with you. I made it during my tenure on the Dirty Dozen and can share it on my blog now. Just in case you didn't know . . . I love to knit and do quite a bit of felting. Once you are hit by the felting bug there's little hope. What happened for me is that I was doing small felting projects like purses then started looking for way to bring that wonderful texture over onto my cards. Fast forward to the present time, about once a month I hit the Goodwill store and pick up sweaters that are 100% wool. When I get them home, I put them in the washer and dryer (separately, and in a pillowcase) and felt them right up. Oh my word, that felting cuts like butter under steel rule dies. I pull out some of my old Sizzix Steel Rule Dies and go to town.
So my pincushion is made from old sweaters! When I saw this cute cupcake made by Betz White, I knew I had to make one. It was just the icing on the cupcake to cut flowers from the same felted fabric and make a matching card.
Project Supplies:
Stamps: Inkadinado
Paper: 140lb Strathmore Watercolor Paper, Marcell Kay (Monkey Around), K & Co. (SeaGlass), Bazzill, The Paper Co (Solar White)
Ink: Black Brilliance
Accessories: Spellbinders Standard Circle Small, Labels Four, Sizzix Flowers, Ribbon, Pearls, Tombow Markers, Copic ABS

Stay warm friends! By the way, guess who'll be celebrating 27 years of wedded bliss on December 4th? Me!! My sweetie pie is under the weather, but it won't keep me from giving him a great big juicy smacker!