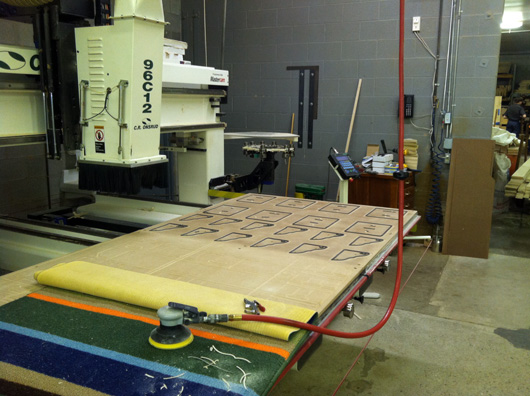 I've always been infatuated with fine craftsmen and their art.  When you think about the time that goes into any labor of love is it any wonder what ordinary people can do?  Wanna see something kinda cool?  Just like the tools we crafters use get automated over the years, that happens in every discipline.  Things get easier to make!  The picture above is the facility that made the Becca Peg Bow Makers.  Once I saw the set up, I realized the precision that went into making each one alike!  It's computerized, kind of like a Cricut except with wood, lol!!
So, just a quick post to let you know that Becca's Peg Bow Makers have landed!! Several of you could not wait to get them out of the box and have set them up and tied some bows (I have the pictures to prove it!!)   Thanks for letting me know that you're getting them and most of all thanks for the positive feedback.  A couple of people have had questions about the pegs or the DVD's so I thought I'd post an answer in case you ponder the same question.
If you detect any resistance  on your first set up, this is normal, simply tap the pegs into place with a mallet or something non-destructive like a piece of wood.   With use, the pegs will conform to the holes without being too loose – just like a favorite pair of jeans that eventually mold to your body.
The Pegs are made by a precision piece of automated equipment, as are the holes. They are designed for an extemely tight fit in the holes so that there is no play in the pegs whatsoever.  This is so you make a nice consistent bow every time.  Because the span of temperatures that bowmaker goes through to get to your location, there's always a chance that the wooden pegs expand or contract.
I've also answered some questions about the DVD . . .
If you are using it on your computer, take a second to reconfirm that your computer plays DVD's and not just CD's.  Sometime you have a combined DVD/CD player and sometimes they are not combined.  
If you're not familiar with Becca's Peg Bow Maker, hit Buy Now the link on my right hand sidebar and it will zoom you to the location with the details as well as a contact button if you have any purchase questions!
Happy Bow Making!  I can hardly wait to see what you create!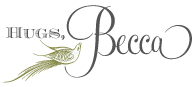 Happy Leap Day!!  I'll be back later on in the day for the last day of the Waltzingmouse Releases.  All those goodies go into the store for purchase midday in the US, so be sure to consult the Waltzingmouse Stamps Blog to see when things go live in your time zone.
Find more like this: Peg Bow Maker & Bows, Stamping