Working quietly behind the scenes, I know I haven't weighed in for many days, but I'm cre8ting!! :-)  So often when we have a bad experience we want to rush out and tell the world and I know sometimes I like having a good rant myself.  But . . .  I'm just as happy when I can tell a good story or something that was sooooo surprisingly good so I wanted to leave you with this little tidbit today.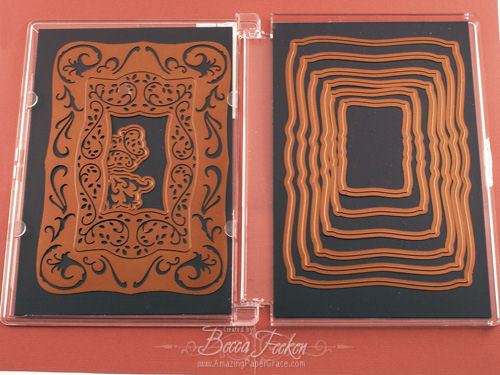 My craft room is a wreck, honestly it is not fit for human viewing and I'm vowing the big renovation.  One of my organization tips found HERE are an awesome set of clear DVD cases that I use to hold my Spellbinders and rubber stamps – see picture above.  I've been doing the happy dance over these for years and just when things couldn't get any better, I get to do a happy dance on top of that happy dance.  I went to order these cases from a regular vendor day before yesterday and decided I'd rather call the company to order them rather than use my credit card on line (I'm a stickler about encryption).  They are in a different time zone than me, so yesterday I missed them.  Drats!!  I got online and did a little bit of research – all that ever seems to come up is Amazon and I didn't want that either.  Lo and behold up pops the name TapeOnline.  I've never heard of them but the price on these DVD's is half of what they cost with the regular vendor and the shipping was 1\3 of the cost of what I had paid for previous orders.  And get this…I ordered them at 6:00pm last night and my mouth dropped open when the Fed ex man knocked on my door a bit ago.  They're already here – less than 20 hours later.  Happy, happy dance, right?!!?!
The regular vendor I used before had never let me down so I certainly don't want to bad mouth them, but I sure do want to good mouth TapeOnline.  I'll be changing the link on my tutorial to point to them since I've ordered from them and received such good service.  Now excuse me while I happy dance my way back to the studio to put up my new DVD cases.  If you look at the organizational tip I did back in 2009 you'll see I use these for cling stamps too – a word of advice – if you do that please put your stamps on a clear liner sheet so that the stamps don't react with the acrylic.  Here are the links:  (These are sold as you see in the picture above (without an inner tray).  In the past I removed the tray and threw it away – now with this vendor I get a better price as they offer them without the inner tray!!
Tape Online               Super Jewel King Box Size One/Two Jewel Box
I have a new card for tomorrow so I'll see you then!!