Sweet Blog Friends, if you were mildly curious why I have been MIA, then I have an admission to make.  My table has been covered with new products and it's frankly like being a kid in the candy store.  Wrist deep in some tantalizing new Spellbinders is every crafters dream so I thought I would show you one that is going to be at the top of my "go-to" list as well as a project or two to show you why I fell in love with it right away.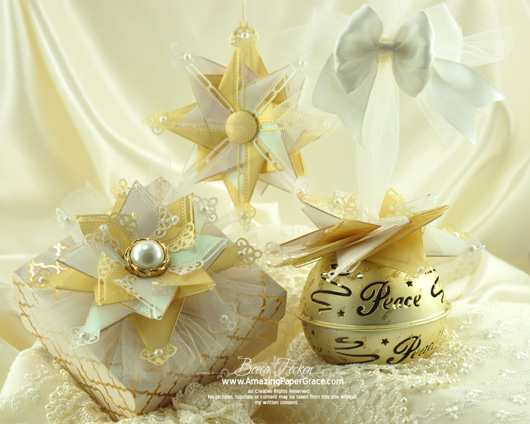 The new die template I'm using is Spellbinders Marvelous Squares.  It's a mix and match die template that offers a near infinite possibilities in layers as well as an infinite possibilities of detail within those layers.  On this project I'm using a piece that has decorative edges and I've folded them into a star arrangement for a package embellishment, an ornament collar, and a stand alone ornament.  For the gold gift box I'm using the star as an embellishment piece.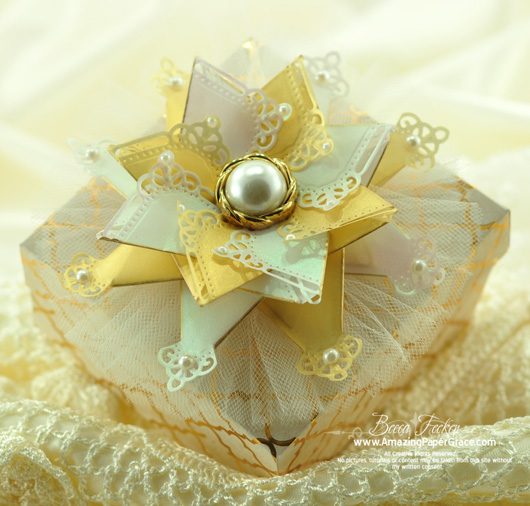 The ornament collar below is folded from a thin vellum paper and edged with a gold pen.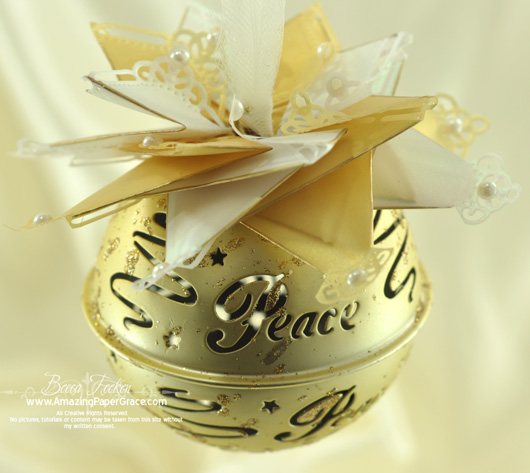 For the stand alone ornament below you can see the detail from the die template on the tips of the star points.  That simply made my heart sing!!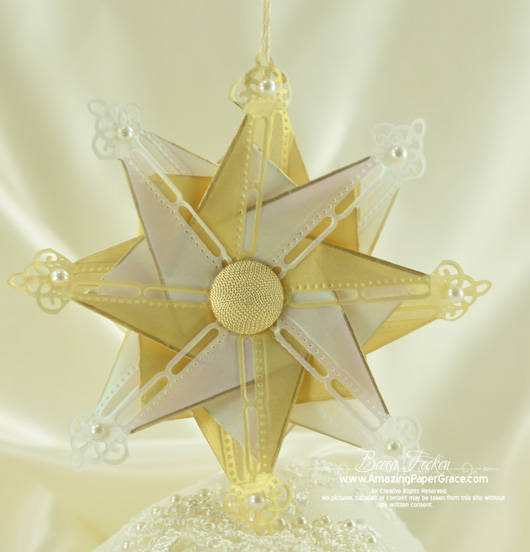 ETA:  Many have emailed me to ask, so I've done some poking around understand these die templates are scheduled to ship in mid-August!  
SUPPLIES LIST
Die Cutting Machine: Spellbinders™ Grand Calibur® machine
Dies: S4-483 Spellbinders Marvelous Squares – MSRP $24.99
Cross Promotional Partners: Scor-Pal – ScoreTapePaper:  The Paper Studio
Ink: None
Accessories: Recollections Pearls, Krylon Gold Pen, Buttons, Joann's Tulle, Ribbon
But let's look at this die template in greater detail.  Here I've created a layered, interlocking gatefold card in a jacket that's 6″ x 6″.  Because of all the possibilities with the layers and details on the layers, I used one die template set to complete the whole card!!  Cutouts and layers create the illusion of intricacy but one peek at the YouTube Video Tutorial I've created will blow away all the smoke and mirrors I used to make the card and I hope you'll give it a try!  Here's the card tucked away safe in a decorative jacket.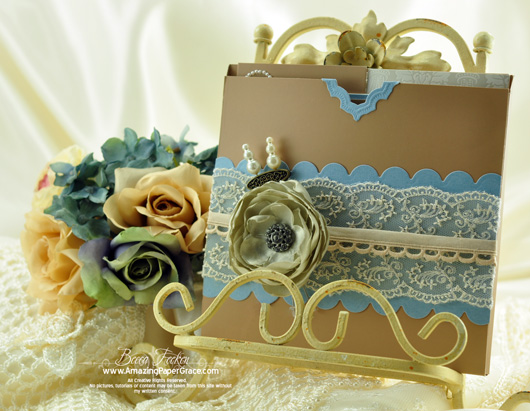 Here is the card outside of the jacket.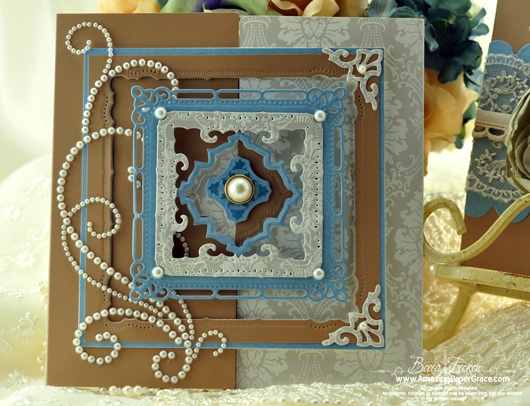 Then you can see how the card layers match up with the gatefold sides to open below.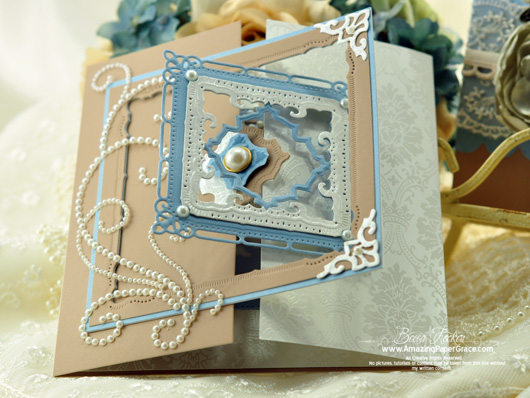 And finally the inside.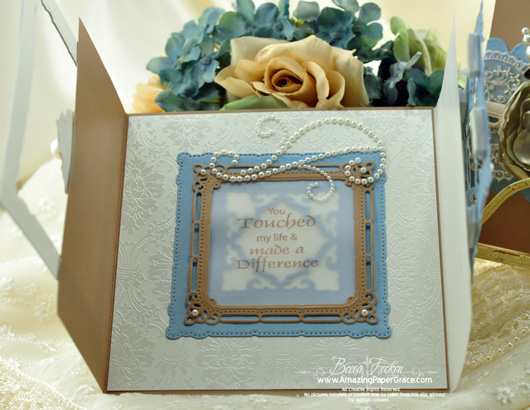 I have a YouTube Video here to show you how!  (available in HD)
SUPPLIES LIST
Die Cutting Machine: Spellbinders™ Grand Calibur® machine
Dies:  S4-483 Spellbinders Marvelous Squares – MSRP $24.99, Spellbinders Grand Scalloped Rectangles
Cross Promotional Partners:  JustRite Papercrafts – Anchors Away
Bazzill Basics Paper – Blind Date, Scor-Pal, Scor-Tape
Paper:  Die Cuts With A View – Silky Smooth Cardstock Stack,  The Paper Studio – Blanque Boutique, The Paper Studio Vellum
Ink: Stormy Sky Distress Ink, Amuse French Roast
Accessories: 3M Foam Tape,  Zva Creative Pearls, Michaels Pearl Brad, Lace, Jolees Flower, Recollection Pearls, Pearl Pics
The Sneak Peek: Spellbinders™ Summer Spectacular! Begins on June 21st and will end on June 28th, 2012. It consists of 24 individual prizes and one grand prize drawing.  Enter the Sneak Peek: Spellbinders™ Summer Spectacular! by visiting the participating blogs each day.
At the end of each blog post, click on the "Enter HERE" to open the entry form. You may only enter once from each blog each day.
Spellbinders™ will randomly draw one winner from each participating blog to receive that blog's newly revealed dies. The Grand Prize Winner will be randomly drawn from the pool of entrants who sent entry forms from each and every participating blog during the 48 hours each blog was open. For the full list of official rules please click RULES.
   This contest is now closed.
**Enter the contest by clicking HERE (link no longer valid).**
I'm so tickled that you stopped by to see me today.  It's going to be a fantastic week as there are lots of reveals in store.  Kazan Clark and Julie Overby are also showing new templates today and I hope you'll take a second to peek in and see what they made.  Of course no Blog Frenzy would be complete without giving you an opportunity to win so don't forget about all the wonderful prizes!!
Please email ContestQuestions@Spellbinders.us for any questions you have about the contest.   No entries will be accepted at this email address.