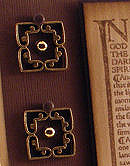 If you all remember last month, it was my debut on the Splitcoaststampers Design Team, the Dirty Dozen. What a month!! Well again, it's almost the 15th and that means that the next Dirty Dozen gallery will be opening!! I wanted to share a little sneak peek of a card that will be in the gallery!
If you are not familiar with Splitcoaststampers or the Dirty Dozen please check it out HERE. Splitcoaststampers is a large stamping community that harbors a wealth of information. The Dirty Dozen is a set of 12 designers who produce elite projects that are shown in a special gallery exclusively available to The Fan Club. On the 15th of each month a new gallery is revealed to those who have a membership in the Fan Club. Now this isn't a card I can post here, but if you are a member of the gallery, it will be available for you to see at 12:01am on February 15th in the Splitcoast Fan Club Gallery.
Becca Tip:
I leave you today with a small tip to thank you for looking in on me today! When I pulled this card together it was missing something. I'm a beader also and have found that things you use for jewelry make excellent embellishments for cards. The element that you see in this sneak peek is a toggle! Isn't that just beautiful? I simply used a brad to attach it to my card then put a gold half bead in the center! If you look back through my cards on this blog from the beginning – you'll find little surprises like that peppered everywhere – I love jewelry embellishments and have been using them for quite some time. This particular embellishment I found at Joann's and it is from a jewelry line called Manor House.
As always, thanks for stopping by!!