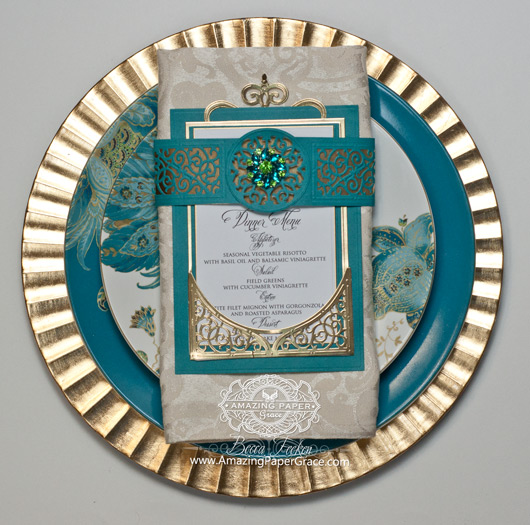 Good morning friends!  Who knew this weekend would be so busy!  Here's what's going on:
 If you stopped by yesterday, you found out that I'm giving away a trio of gilded journals in a journal holder. Each journal takes about 15 minutes to complete and the entire project takes less than an hour!  The entire tutorial and pictures of the completed project are on the Spellbinders Website ——–> HERE.   To enter to win (even my international fiends), you must go to (click here) ——->THIS POST<——– on my blog and leave a comment before May 5th.
Today is National Scrapbook Day!!  Spellbinders is hosting five sweet challenges that are being revealed today – you have all weekend to play so why not pick one.  Details are HERE (on Instagram).
Okay, now on to what I wanted to show you today.  I'm from a small family but when my sister and I get together, even for a simple dinner, we love to lavish love (like this) on the event to make it memorable.   We're both from the "use it now" school; we eat on my good dishes, we drink with the fancy glasses, out come the charger plates, fabric napkins and I lay out a menu program on their plate.  For a small party of 4 or 5, it only takes an hour to prepare; it's so simple and it makes for a marvelous presentation.
A computer typed menu is adhered to gold cardstock leaving a scant border, then mounted to teal cardstock that is 3-7/8″ wide x 5-1/8″ tall.  Swirl Bliss Pocket is attached to Spellbinders A2 Matting Basics A (largest die) cut from gold and then mounted on Spellbinders 5 x 7 Matting Basics A (largest die) cut from teal cardstock.  Spellbinders Twisted Metal Tags and Accents is my favorite go to motif for the regal element that sits on the top of the assembly.  Then I made a belly band using  two lengths of the rectangular element from Swirl Bliss and I left a large enough space in the center for the circle element from Swirl Bliss Pocket and put a gold strip behind the filigree.  The jewel in the center is a button from my stash.
Thanks for asking and letting me share every day ideas on how to use my new dies.  More to come!!  In the meantime Happy National Scrapbooking Day.  Get crafty!